Mike Daniels strip sack of Russell Wilson deep in Seattle territory set up Ty Montgomerys six-yard touchdown run to spark the Packers 17-9 win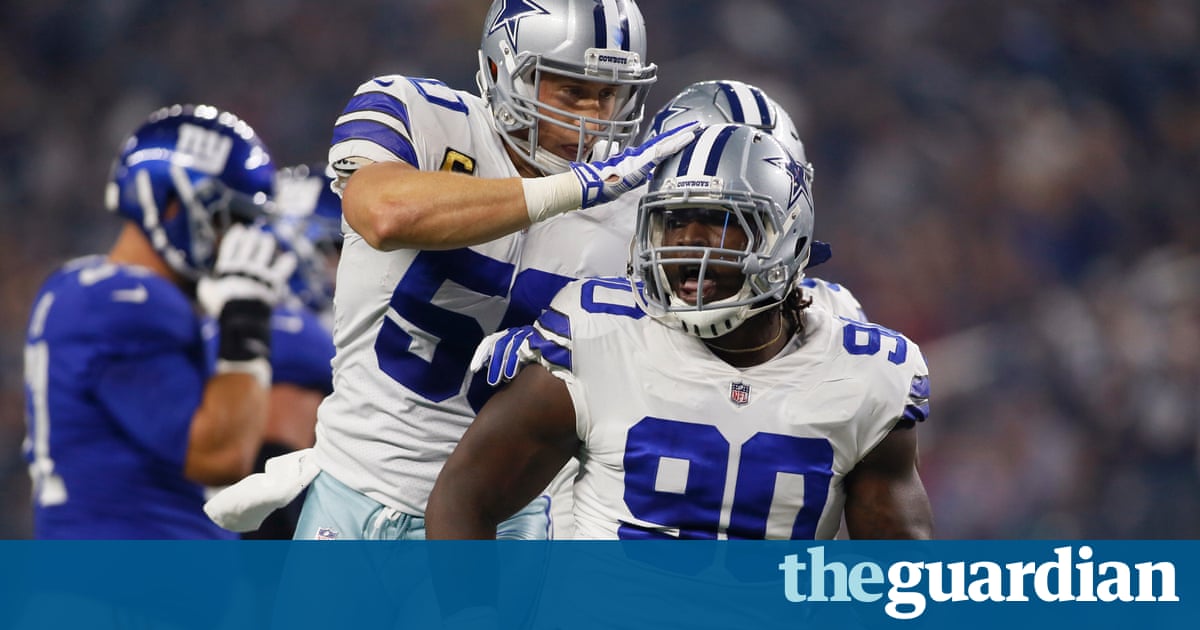 Jason Witten scored the only touchdown while breaking the franchise record for yards receiving and the Dallas defense shackled a New York offense missing Odell Beckham Jr in the Cowboys 19-3 season-opening victory over the Giants on Sunday night.
Ezekiel Elliott had 104 yards rushing and another 36 receiving two days after a judge halted his six-game suspension over a domestic violence case, although last years NFL rushing leader had already been cleared to play the opener.
Dak Prescott was turnover-free while throwing for 268 yards as the Cowboys dominated a rival who had swept them during a 13-3 season that topped the NFC and was fueled by the sensational rookie years for the quarterback-running back duo. Dan Bailey kicked four field goals.
Eli Manning didnt have Beckham in his 200th straight start after his dynamic top target sprained his ankle in a preseason game. The Giants were outgained in the first half 265-49 while falling behind 16-0.
Manning was 28 of 37 for 211 yards with an interception and didnt connect with new receiver Brandon Marshall, who dropped his best chance for a catch with open field in front.
Witten scored the Cowboys first touchdown on a 12-yard catch and finished with seven catches for 59, breaking Hall of Fame receiver Michael Irvins club record of 11,904 yards. Witten, already the franchise leader in catches, now has 1,096 receptions for 11,947 yards.
Elsewhere, Green Bay defensive lineman Mike Daniels strip sack of Russell Wilson deep in Seattle territory in the third quarter set up Ty Montgomerys six-yard touchdown run on the next play to spark the Packers 17-9 win.
Packers quarterback Aaron Rodgers was 28 of 42 for 311 yards and added a 32-yard touchdown pass to Jordy Nelson to make it an eight-point game late in the third quarter.
Rodgers regular-season streak of passes without an interception ended at a career-high 251. The Seahawks defense reinforced by the return of safety Earl Thomas bottled up receivers from making many big plays and put plenty of pressure on Rodgers.
But the Packers started denting Seattle with runs or quick passes to Nelson, Randall Cobb and Montgomery in the second half, chewing up clock in the process. A 12-play, 53-yard drive that took up more than 5 minutes ended with Mason Crosbys 40-yard field goal with 8:01 left to make it a two-score game.
Green Bays defense had an even better debut, especially considering how maligned the Packers were against the pass last season.
Seattle managed just three field goals. Wilson was held to 14 of 27 for 158 yards. The Packers held decisive edges in total yardage (370-225) and first downs (26-12). Green Bay held the ball for 39 minutes.
Sundays other results: Arizona Cardinals 23-35 Detroit Lions; Philadelphia Eagles 30-17 Washington; Atlanta Falcons 23-17 Chicago Bears; Jacksonville Jaguars 29-7 Houston Texans; New York Jets 12-21 Buffalo Bills; Oakland Raiders 26-16 Tennessee Titans; Baltimore Ravens 20-0 Cincinnati Bengals; Pittsburgh Steelers 21-18 Cleveland Browns; Indianapolis Colts 9-26 Los Angeles Rams; Carolina Panthers 23-3 San Francisco 49ers.
Read more: https://www.theguardian.com/sport/2017/sep/10/nfl-seattle-seahawks-greenbay-packers-cowboys-giants