The NFL has shown its support to Michael Bennett after the Seattle Seahawks defensive end said Las Vegas police threatened to shoot him last month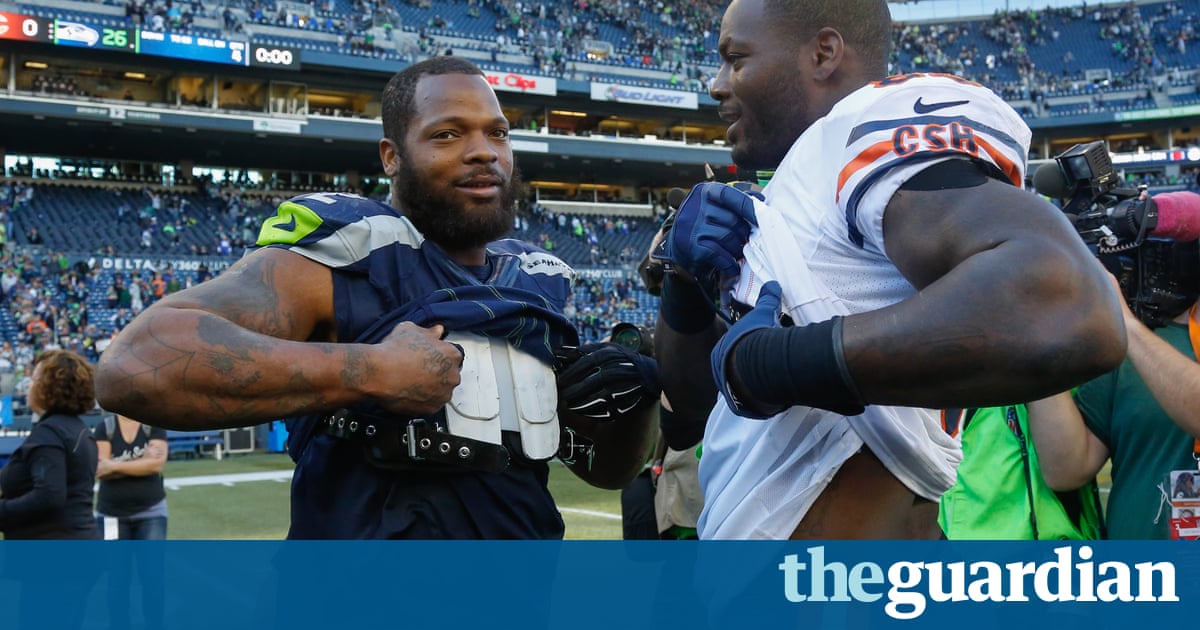 The NFL has shown its support to Michael Bennett after the Seattle Seahawks defensive end said Las Vegas police threatened to shoot him last month.
Bennett says the incident took place as he was heading back to his hotel after attending the Conor McGregor v Floyd Mayweather fight, and heard what sounded like gunshots. Las Vegas police officers singled me out and pointed their guns at me for doing nothing more than simply being a black man in the wrong place at the wrong time, he said in a statement on Wednesday. He added that one officer had threatened to blow my fucking head off.
TMZ later released video of the incident, which showed Bennett protesting his innocence as he lay on the ground. The gunshots later turned out to be a false alarm.
His brother Martellus, who plays for the Green Bay Packers, said he was in tears after watching the footage. I didnt even know there was a video, Martellus told reporters on Wednesday evening. I had to walk out of meetings because I broke down crying, just thinking about what could have happened, what could have been. It was just so close. You never know these days.
Martellus was clearly emotional on Wednesday, and his session with reporters ended with the player in tears.
Sometimes, a hug is the best thing you can give, Martellus said. I mean, I dont really know, really you know what Im saying? I dont really have the answers. You just think, What if? You know? Two seconds this way, two seconds that way, the whole thing is different. So for me, Ill just be happy to see my brother, because theres a chance I couldnt see him.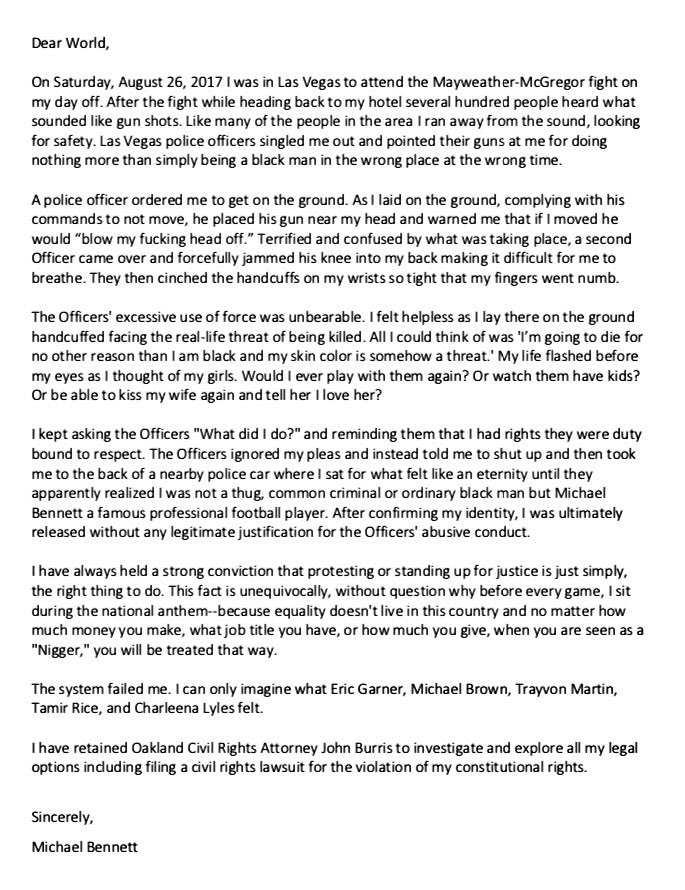 There have been questions over why Bennett was picked out as a suspect among the many people fleeing the gunshots, the reports of which later turned out to be false. The Seahawks coach, Pete Carroll, said the incident was indicative of wider problems in the United States.
What happened with Michael is a classic illustration of the reality of inequalities demonstrated daily, he said in a statement. May this incident inspire all of us to respond with compassion when inequalities are brought to light, and allow us to have the courage to stand for change. We can do better than this.
The NFL commissioner, Roger Goodell, said the league stood behind Bennett as it prepares to kick off the season on Thursday night. Our foremost concern is the welfare of Michael and his family, Goodell said. The issues Michael has been raising deserve serious attention from all of our leaders in every community. We will support Michael and all NFL players in promoting mutual respect between law enforcement and the communities they loyally serve and fair and equal treatment under the law.
Las Vegas police said they were responding to reports of a shooter at a casino at the time of Bennetts arrest. Clark County undersheriff Kevin McMahill said Bennett didnt stop when officers saw him running away from the casino. McMahill added internal affairs investigators are reviewing video footage to determine exactly what happened.
Bennett is known for supporting social causes, and said he will not stand for the anthem this season as a protest at inequality in the United States.
Martellus Bennett said he was proud of his brother for speaking about the incident in Las Vegas. Im very proud of Michael and the way that he handled it, he said. Theres a lot of guys who told him not to say anything. It may be a distraction. You dont need to say anything. Youre alive, you lived through it, why tell anyone your story? For me, I think thats the wrong way to go about it. I think his letter, it was eloquent. You had to empathize with the side of the story that he was telling, what happened to him.
Read more: https://www.theguardian.com/sport/2017/sep/07/martellus-bennett-michael-bennett-las-vegas-police-nfl