The president to make a decision on Daca, as Mark Zuckerberg, Sheryl Sandberg and Tim Cook among tech leaders urging him not to end the program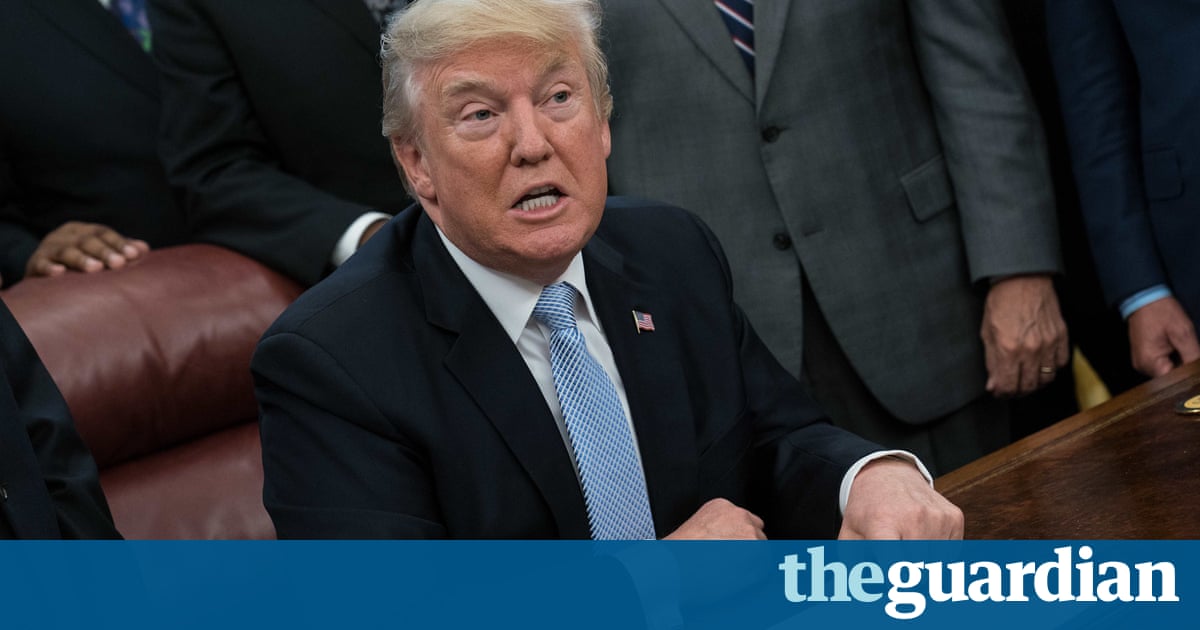 Donald Trumps spokeswoman Sarah Huckabee Sanders said on Friday that the president would announce his decision on whether to kill off special legal provisions offered to Dreamers, people brought to the US illegally as children, on Tuesday.
This is a pretty complicated process, as you all know, and we want to work through every bit of that, Sanders told reporters at a White House briefing.
While the White House press secretary declined to answer numerous questions about Trumps thinking or decision-making process, Sanders said of the president: Hes making sure he takes the diligent time and effort and attention that this vey important issue deserves.
Her comments came hours after Trump told reporters in the Oval Office: We love the Dreamers. We love everybody We think the Dreamers are terrific.
Support for Deferred Action for Childhood Arrivals (Daca), a 2012 Obama policy, has come from many directions since it was reported on Thursday that Trump was set to let it lapse. Around 800,000 people in the US have Dreamer status, which they must renew every two years.
The Republican speaker of the House, Paul Ryan, told a Wisconsin radio station on Friday: I actually dont think he should do that. I believe that this is something that Congress has to fix.
Ryan said he believed Barack Obama had not had the constitutional authority to sign Daca into law, but added: There are people who are in limbo. These are kids who know no other country, who were brought here by their parents and dont know another home. And so I really do believe there that there needs to be a legislative solution.
Many of Americas world-leading technology chiefs and dozens of business leaders sent an open letter to Trump urging him not to kill off Daca.
Facebook founder Mark Zuckerberg and other business titans such as Meg Whitman of Hewlett-Packard, Jack Dorsey of Twitter, Tim Cook of Apple and the fashion design legend Diane von Furstenburg signed the letter..
The letter tells the president that Dreamers are critical to the success and competitiveness of American companies and that the US economy will suffer if the young peoples job security and protected residency status are stripped away.
An immigration reform group founded by Zuckerberg, FWD.us, orchestrated the letter, as reported by Politico.
Zuckerberg and Facebooks chief operating officer, Sheryl Sandberg, were two of the leading signatories, saying of Dreamers: With them, we grow and create jobs. They are part of why we will continue to have a global competitive advantage.
Other companies signing the letter include Google; Uber; Foursquare; GoFundMe; Lyft; Tumblr; and dozens of smaller companies and groups, such as Tradesy; the Illinois Science and Technology Coalition; and progressive law firms.
Supporters of the Daca program were nervous but cautiously optimistic as recently as June that Trump would preserve Obama-era rights for those affected to work or go to college without threat of deportation.
Trump has seemed conflicted about how to go forward on Daca, but speculation has been growing in recent days that he would crush the 2012 Obama initiative. Attorneys general from 10 conservative states have threatened to sue the government next week if it doesnt end the program.
Millie Herrera, founder of the Miami Group, a management, IT and marketing consultancy, who fled Cuba with her family when she was 10 and ended up legally in the US, signed the letter and told the Guardian that dreamers are the future of this country and that Trump must continue to include them in a thriving society.
Its not only the human thing to do but its also the economically beneficial thing to do. These young men and women hold down jobs, pay rent, are law-abiding and contribute hugely, and we need their skills, she said.
It was not the Dreamers fault that they had arrived in the US undocumented and trying to take away their rights and deport them would simply be racist and cripplingly expensive, she said.
We need compassion but also common sense, here, she said. She called for comprehensive immigration reform legislation, at which Congress has balked for at least a decade.
The letter calls on Trump to preserve the Daca program and also calls on Congress to pass the bipartisan Dream Act, or similar legislation, that would give Dreamers permanent legal status in the US.
Unless we act now, all 780,000 hardworking young people [affected by the program] will lose their ability to work legally in this country, and every one of them will be at immediate risk of deportation.
Our economy would lose $460.3bn from the national GDP and $24.6bn in Social Security and Medicare tax contributions, the letter says.
Read more: https://www.theguardian.com/us-news/2017/sep/01/trump-daca-dreamers-immigration-facebook-letter