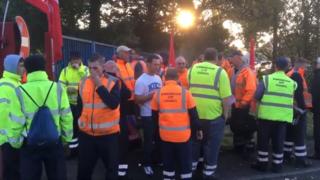 Bin workers have returned to the picket lines as strike action in Birmingham resumed after a deal fell apart.
A seven-week strike that saw mountains of waste pile up on streets was suspended on 16 August amid talks between Unite and the city council.
However, on Thursday the council reneged on a deal that saw the strike suspended and said a meeting due on Friday would not now happen.
The Unite union has warned that action will continue until the end of 2017.
See more stories from across Birmingham and the Black Country here
Unite assistant general secretary Howard Beckett said the council's actions had "made it a certainty that the people of Birmingham will suffer this chaos and disruption and rubbish on their streets for the rest of 2017".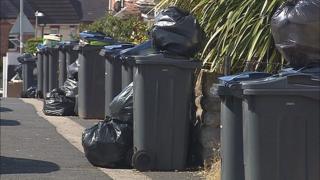 The dispute centres on restructuring plans that Unite says are threatening the jobs of more than 120 refuse collectors. Birmingham City Council says the plans will modernise the service and save £5m a year.
Conciliation service Acas said on 16 August the council had accepted the workers' case and restored the jobs of grade three workers, who are responsible for safety at the back of refuse vehicles.
Birmingham bin strike: Report warns deal 'unaffordable'
Birmingham bin strike called off
However, a council report said the deal struck by Unite and the council was unaffordable.
---
Timeline of the strike
30 June: Strike action starts with the first stoppage
3, 11, 19 and 27 July and 4 August: Two hour stoppages take place
18 July: Unite announces action will continue until September after talks break down with the council
28 July: Daily two-hour stoppages are increased to three hours
11 August: Action is stepped up to three hour-long stoppages spaced across the shift
16 August: Strike action is suspended amid negotiations between Unite and the city council
24 August: A report to Birmingham's cabinet warns the deal that ended the strike is unaffordable. A meeting due to be held is deferred until 1 September
31 August: The council announces it is issuing redundancy notices. Unite says the move is a "deeply provocative act" and warns workers are likely to resume strike action
1 September: Workers return to picket lines. The union warns action could continue until the end of the year and says members will be balloted for further action
---
On Thursday the council said it was issuing redundancy notices to certain grade three workers "in order to protect its legal and financial position".
This prompted strike action to resume on Friday morning, with three-hour stoppages spaced across shifts, taking place daily at 07.00, 10.30 and 13.00 BST.
Mr Beckett described the council's decision as "outrageous industrial sabotage" and called for council leader John Clancy to "give reasons" for it.
He said: "I reached a deal with John Clancy and Acas on 15 August. That deal was publicised by Acas on the 16 August after my members authorised it and suspended industrial action.
Birmingham bin strike: 'All I see is this rubbish'
Volunteers clear rubbish from Birmingham's streets
"I was told by John Clancy, and have a text communication from him, that the cabinet approved the deal on the 21 August, yet I have a statement yesterday, and I haven't heard from John Clancy, that there's this sudden reversal."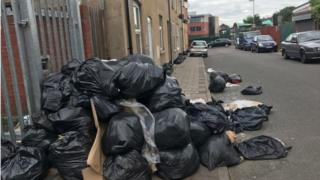 However, Lisa Trickett, cabinet member for clean streets, recycling and environment, told the BBC that the settlement had only been made "in principle".
"The leader was very clear in the Acas statement that it was in principle," she said.
The council has said it wished to continue ongoing discussions "with trades unions through Acas in parallel with seeking alternative jobs for the Grade 3s affected by redundancy".
Read more: http://www.bbc.co.uk/news/uk-england-birmingham-41121472