Trumps shift from an adversary to his own party to an uneasy truce seems to have reverted proof he either has a misguided plan, or is just thin-skinned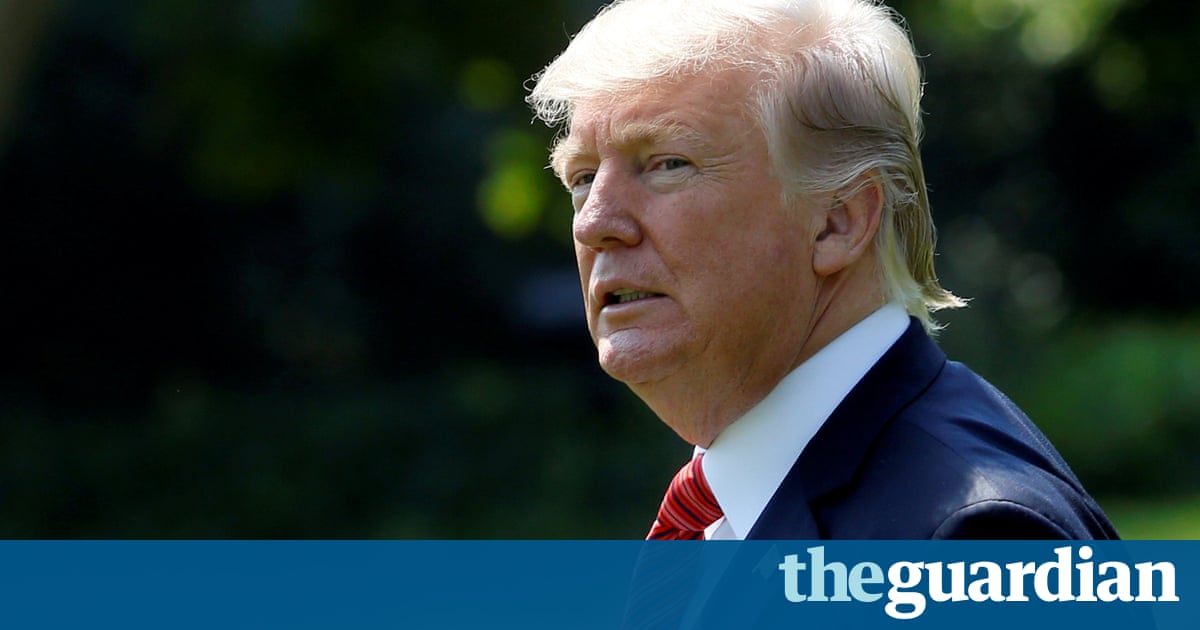 If there was one thing a Republican candidate was not supposed to say in South Carolina, with its big military population, it was that George W Bush lied about weapons of mass destruction in Iraq. In a primary debate in February last year, with Jeb Bush standing near him on stage, Donald Trump said it anyway.
There were some boos on the night, but Trump won South Carolina by about 10 points and Bush dropped out of the race. Clearly, attacking fellow Republicans and their shibboleths was no bar to the partys nomination. Perhaps it was the key.
Trumps adversarial approach to his own party is the normal state of affairs, not the exception. He was always a non-ideological third-party candidate who happened to wear Republican colours, appalling its country club establishment. He saw himself as the leader of an extra-political movement. Tellingly, on Twitter, he refers to Republicans as they rather than we.
After an uneasy truce over seven months which got the conservative Neil Gorsuch into the vacant seat on the supreme court but which could not repeal and replace Barack Obamas healthcare law, the president has reverted to type.
Trump and Senate majority leader Mitch McConnell, who ought to be his chief ally on Capitol Hill, have not spoken for weeks after a phone call descended into an angry shouting match, according to multiple media reports. Instead the president has taken to lambasting McConnell for the healthcare debacle on Twitter, a habit that the wily Kentucky senator is known to disdain.
On Thursday, Trump broadened the assault to include House speaker Paul Ryan over an upcoming headache the need to raise the federal debt ceiling when Congress returns next month. On Friday, he blasted a one-time ally, Senator Bob Corker, who had questioned his competence and stability.
Strange statement by Bob Corker, the president wrote, considering that he is constantly asking me whether or not he should run again in 18. Tennessee not happy!
That night, Trump sowed further division by pardoning Joe Arpaio, a former sheriff in Arizona convicted of contempt of court for defying a judges order to stop racially profiling Latinos. Republican congressman Justin Amash of Michigan tweeted scornfully that Trump had pardoned a government official who ignored Bill of Rights.
Both Arizonas Senators joined the condemnation. John McCain, the Republican nominee for president in 2008, said Trumps move undermines his claim for the respect of rule of law; Jeff Flake tweeted: I would have preferred that the president honor the judicial process and let it take its course.
This came after a campaign-style rally in Phoenix, Arizona, where Trump savaged McCain and Flake in all but name. The senators have been among increasingly critical party members in recent weeks, in particular over the presidents response to violence involving white supremacists in Charlottesville, Virginia.
Chris Cillizza of CNN wrote that by his count Trump, as candidate or president, has now attacked 11 Republican senators, 21% of the total. He drew two conclusions: First, that Trump is thin-skinned. Each of those senators said or did something he didnt like. He never once took the high ground.
Second, that Trump is not terribly strategic. While accelerating beefs with 20% of your own partys representatives in the Senate is never a smart thing to do, the people Trump decided to savage are folks he needs (and is going to need) to pass his agenda or to hold the Senate for the GOP. He either doesnt get that or he doesnt care.
One of the senators on the receiving end, however, believes there is a strategy at work, how ever misguided. Lindsey Graham of South Carolina told the conservative radio host Hugh Hewitt: Hes running against Mitch McConnell and Lindsey Graham and others.
The Congress is very unpopular, particularly with the Republican base, so theres nothing unhinged about it. Its a political strategy that Im not so sure is smart, but its a very thought-out strategy. Theres nothing crazy about it.
Asked about Trumps attacks on senators at the end of Fridays White House briefing, press secretary Sarah Huckabee Sanders seemed to agree. I think its clear that the endgame is for Congress to do its job and actually pass legislation, she said. I think the American people are very frustrated with Congresss lack of action. And for years theyve been all talk and no action. Were looking for them to step up at this point.
Trump appears to have made the following calculation: that the combined firepower of his outsized celebrity and unholy alliance of rightwing interest groups evangelical Christians, anti-tax Tea Party diehards, anti-abortion activists and the National Rifle Association and the anti-liberal brigade can outgun an ageing Republican establishment.
After all, during those party primaries, many voters said they were sick of Congressional inaction and the Washington swamp and wanted the outside businessman to shake things up. This week a poll suggested that while one in four Republican voters disapprove of the president, nearly half disapprove of the Republican Congress.
Every time Trump who once declared I am your voice, holds a raucous rally for his base, he is sending a message to senators and representatives that he has an army on his side.
But it seems he cares more about bullying his way to another election win than passing legislation. While the divide-and-rule approach works for campaigning, it is hardly a model for governing. He dropped the pretence of cooperation with Capitol Hill when he ousted Reince Priebus, former chairman of the Republican National Committee, as chief of staff.
Trump was no Lyndon Johnson when it came to cajoling and deal-making for healthcare reform, not giving a major speech, showing little obvious grasp of policy detail and undermining the House bill by branding it mean.
He sought to pin the blame for its collapse on Congress and is now doing the same with his Mexican border wall, threatening to shut down the federal government if it is denied funding even though his party controls both houses. There remains hope for tax reform so long as he stays out of the way and leaves economic adviser Gary Cohn and treasury secretary Steve Mnuchin to work with Congress.
The Wall Street Journal argued this week: Republicans in Congress need to think of themselves as governing with an independent president if they dont already. This doesnt mean joining Democrats as the Resistance. But it does mean acting on their own to fulfil their legislative promises with or without the support of Mr Trump.
If the president goes his own way, at least Republicans can point to votes for legislation that they put on his desk.
Thus, for McConnell and Ryan, Trump is a liability not an asset, someone to be ignored and worked around whenever possible. Hopes that he could normalise have faded fast in recent weeks. Already there is talk of a Republican primary challenger in 2020, for example Ohio governor John Kasich or Nebraska senator Ben Sasse.
If someone tries, they will have to succeed where 16 Republicans and Hillary Clinton failed.