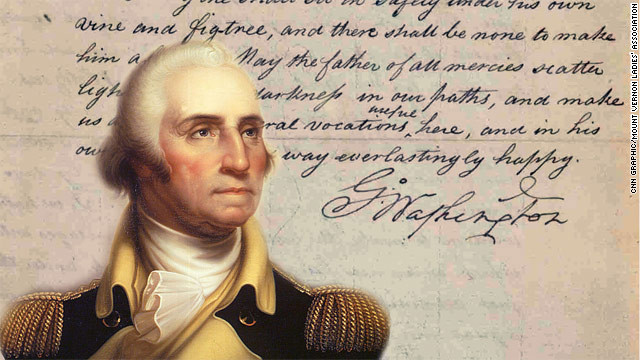 (CNN)Less than 20 miles outside of the nation's capital, nestled behind a grove of trees across the street from the iconic Mount Vernon estate, stands a relatively new institution dedicated to the scholarly understanding of President George Washington.
A great deal is already known about the "Father of the Nation," but there is still much more for many of us to learn about the two-term president, who helped create what we now know as the United States of America.
That is certainly true for the current occupant of 1600 Pennsylvania Avenue, who would be wise to visit the
Fred W. Smith National Library for the Study of George Washington
, which opened its doors in 2013, to learn from Washington's successes and failures as well as avoid making another glaring historical error about the first President.
Trump's false equivalencies
President Donald Trump's
recent creation
and
subsequent defense
of a false moral equivalency — placing equal blame on white supremacists and opponents for the violence in Charlottesville, Virginia — has destabilized his administration and exposed racial tensions across the country.
At the same time, the President also came under fire for making a false historical equivalency between George Washington and Confederate Gen. Robert E. Lee in an effort to defend opponents of a sweeping movement to remove statues honoring Confederate leaders from public spaces.
"So this week it's Robert E. Lee," Trump said. "I noticed that (Confederate Gen.) Stonewall Jackson is coming down. I wonder, is it George Washington next week? And is it (President) Thomas Jefferson the week after? You know, you really do have to ask yourself, where does it stop?"
When challenged on the comparisons, Trump accurately responded that Washington, Jefferson and the two confederate generals were slave owners.
But that is where the similarities end.
Washington and slavery
"Washington fought a war to establish a new country based upon the idea of liberty, the ideals of the Declaration of Independence," Douglas Bradburn, founding director of the George Washington presidential library, said in a telephone interview this week. "Lee fought a war based upon the ideals of the secessionists, the idea that slavery was a positive good."
"By any measure, Lee is not comparable to the transformational leadership of Washington," Bradburn said in the same conversation. "By any scale Lee is a lightweight and a traitor to the things that mattered most to Washington."
Bradburn's defense of Washington wasn't meant as a whitewashing of the first President's ownership of slaves, but he also emphasized in an interview on "Full Stop with Mark Preston" that Washington's relationship to slavery was much more complicated than it appears. Bradburn, who recorded this earlier interview a week prior to Trump's controversial remarks, noted Washington was born into a world based on slave labor, but became disillusioned with the practice as he grew older.
"Washington lives through an era in which the birth of ideas about human freedom are actually more like ours today than they were when he grew up," Bradburn said. "And you know he's part of that revolution. … It is very clear he comes to reject the institution of slavery as a good thing, both economically but also morally."
But not everyone held the same belief as Washington and he realized that in order for the 13 colonies to be unified, free states and slave states would need to coexist.
"He thought it was the essential thing to guarantee American independence," said Bradburn, who added an often-cited biographical note: Washington freed his personal slaves when he died. During his lifetime, according to Bradburn, he hoped that slavery would end in Virginia through legislation and was not empowered (either while living or after death) to free the slaves who were part of his wife Martha's family estate.
Finally, a presidential library
You might be wondering: Washington died in 1799. Why did his library open in 2013?
Despite Washington's hope that his papers would stay together as a one collection, over time it was broken up. "Right now the vast majority of the manuscript of George Washington is in the Library of Congress, but in fact about half of it is scattered all over the world," said Bradburn, who added that private individuals who possess original Washington papers have been returning them to the library.
21st-century Washington
What would Washington think of Washington today?
Well, according to Bradburn, he would likely be frustrated by the bitter partisanship that exists in our political system, and he would be wary of political parties, which he feared would create an atmosphere where compromise would be difficult to achieve.
And while Washington "was incredibly ambitious for fame," his definition of celebrity would not be recognized by 21st-century standards.
"What he meant by fame was … glory in the honor of a great cause or being known for doing something selfless for your country, not just being known for doing something asinine," said Bradburn.
The library Bradburn leads opened 217 years after Washington told the nation he would not seek a third term in his
Farewell Address
, published first in a Philadelphia newspaper. (Earlier this year,
CNN contributor John Avlon
authored "Washington's Farewell: The Founding Father's Warning to Future Generations," a well-received book explaining the first President's parting advice to his fellow countrymen.) In one part of the speech that seems particularly relevant today, Washington urged Americans to "promote … as an object of primary importance, institutions for the general diffusion of knowledge." He emphasized that "it is essential that public opinion should be enlightened."
Since the late 1800s, the US Senate has commemorated Washington's birthday by having a member read his Farewell Address, a tradition with roots dating back to 1862 "as a morale-boosting gesture during the darkest days of the Civil War,"
according to the US Senate Historical Office
.
Given the deep-seated racial, economic and political divisions that have taken root in the country, perhaps the US Senate, US House and President Trump, himself, should begin each day by reading Washington's Farewell Address to help remind them that when the Founding Fathers established our system of government, the goal was to create an enlightened and United States of America.