The debate of the century began with a pretence of cordiality at Hofstra University and ended with a few gloves-off zingers from both candidates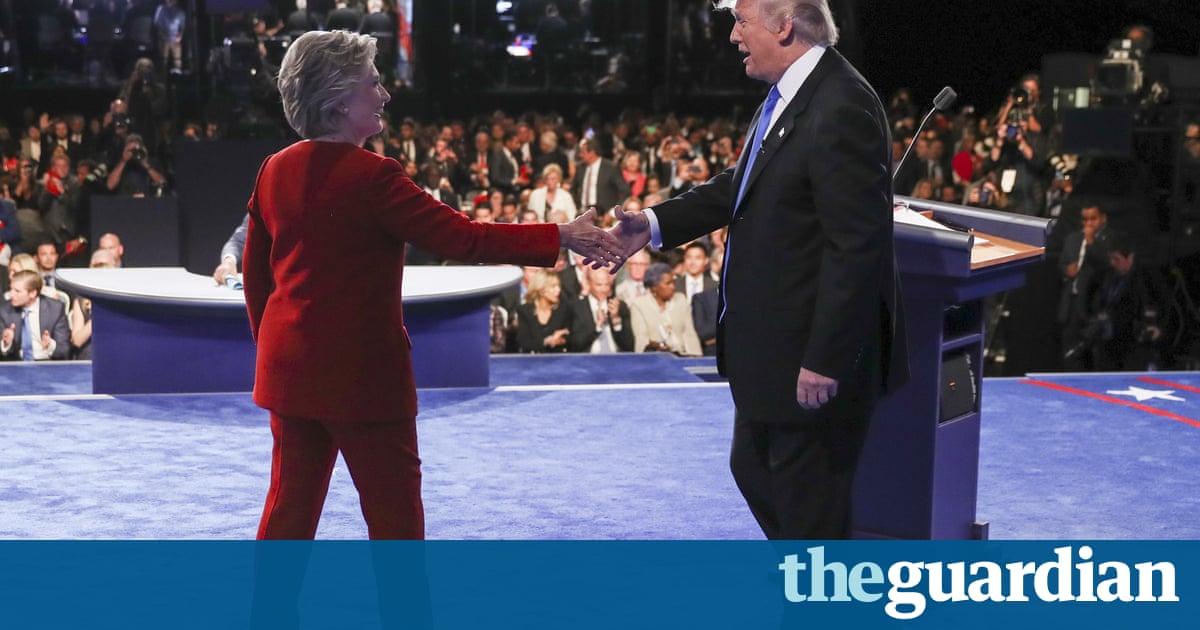 Hillary Clinton called Donald Trump to order on Monday night in probably the most watched and certainly the weirdest and wildest presidential debate in American history. She demanded explanations over his tax returns, his treatment of workers, his temperament as the man with his finger on the nuclear trigger. As he ducked and dived with incoherent excuses, she stared at him with thinly veiled contempt.
Then, right at the end, like a long-suffering, frosty school principal, she decided to expel the ranting, sniffling, whining 70-year-old schoolboy who had not done his homework.
Trump had said she did not have the stamina to be president. Icy and deadly, Clinton replied: Well, as soon as he travels to 112 countries and negotiates a peace deal, a ceasefire, a release of dissidents, an opening of new opportunities in nations around the world or even spends 11 hours testifying in front of a congressional committee, he can talk to me about stamina.
Elsewhere, the first female candidate to participate in a US presidential debate pointed to the Republican nominees past derogatory comments toward women, invoking Alicia Machado, a beauty pageant contestant he had called Ms Piggy and Ms Housekeeping. Clinton said: Donald, she has a name.
This was not the courtly jousting of Kennedy v Nixon in 1960 although Clinton constantly addressed her opponent as Donald. How are you, Donald? she asked when they first shook hands. Donald, its good to be with you, she said. And then, as the mood quickly soured: Ive met a lot of people who were stiffed by you and your businesses, Donald.
Trump nearly always called his Democratic rival Secretary Clinton. At the outset he checked: Is that OK? I want you to be very happy. But the politeness very quickly faded as he interrupted, heckled, rolled his eyes and tried to throw the authority figure off her game with lies. She missed some opportunities to capitalise as she stared at him with thinly veiled contempt.
The debate of the century at Hofstra University on Long Island, New York, began with Clinton and Trump striding out on a deep blue stage with white stars and a giant seal: the American eagle with an olive branch, a bunch of arrows and the words: The union and the constitution forever.
The nation that brought you Batman v Superman and Captain America v Iron Man held its breath for Mrs Know It All v Mr Know Nothing.
Clinton said the central question of the election is what kind of country the US wanted to be: Today is my granddaughters second birthday, so I think about this a lot. Trump, the former host of The Apprentice, narrowed his eyes, tightened his mouth and stared at the camera, as if trying to plant in the audiences mind the familiar phrase: Youre fired.
But the gloves soon came off. Trump gripped both sides of the lectern, his face grew angry, his voice rose aggressively. There were a series of bitter exchanges that showed the genuine animosity between the two and made for the guilty pleasure of compelling television.