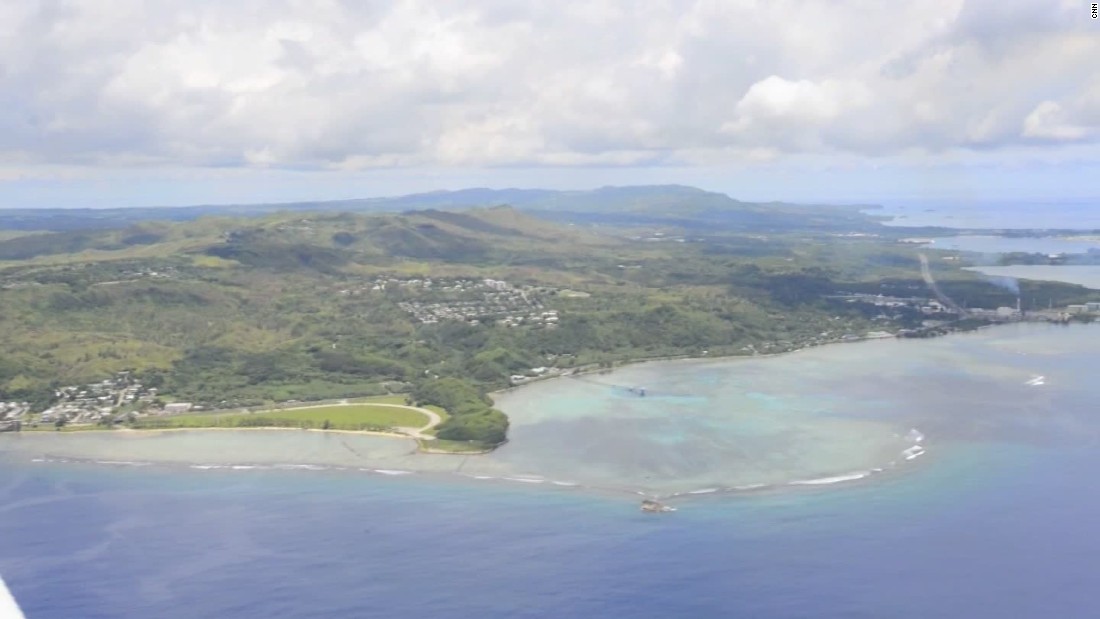 (CNN)As America's top military official arrived in South Korea, two of the Trump administration's most senior figures attempted to present a clear, united position on North Korea's ongoing threats.
"We have no desire to inflict harm on the long-suffering North Korean people, who are distinct from the hostile regime in Pyongyang," they wrote.
"We are replacing the failed policy of 'strategic patience'… with a new policy of strategic accountability," they added.
North Korean military figures are putting the final touches on a plan to fire four missiles into the waters around the US territory of Guam, to be presented to leader Kim Jong Un by "mid-August." It's not clear if and when Kim will order the launch.
A notice put out by Guam's Joint Information Center Saturday warned residents how to prepare "for an imminent missile threat."
In the opinion piece, Mattis and Tillerson again urged China to take a leading role in bringing Pyongyang to the negotiating table. "The region and world need and expect China to do more," they wrote.
They also said North faces a choice: "Take a new path toward peace, prosperity and international acceptance, or continue further down the dead alley of belligerence, poverty and isolation.
"The US will aspire and work for the former, and will remain vigilant against the latter."
Top military official arrives in South Korea
The US' top military official, chairman of the Joint Chiefs of Staff Gen. Joseph. Dunford
arrived at Osan Air Base Monday
, and is meeting with US Forces Korea leadership, and South Korea President Moon Jae-in.
Dunford's trip has been long scheduled and was not arranged in response to the North Korean nuclear threat.
A Defense Department statement said his visit aims to "reassure allies and improve military-to-military ties during a complicated time in the region." Dunford will visit also visit key ally Japan, as well as regional superpower China.
Threat against Guam
The threat to fire four missiles within 25 miles of Guam, a US territory in the Pacific came last week and led to an escalation of threats between North Korea and Trump.
On Friday, Trump doubled down on his statement that he would unleash "fire and fury like the world has never seen" if Pyongyang continued its threats, saying in a tweet that "military solutions" were "locked and loaded" for use against North Korea.
The tiny Pacific island, the largest in the Marianas group, is home to two significant US military bases.
Bomber sorties flown above South Korea Tuesday originated from Guam's Andersen Air Force Base.
Around 5,000 US military personnel are based on the island, which is a US territory.
It is often referred to as the "tip of the spear" and home to the US' most westerly military installations.
Except US bases in Japan and South Korea, it's the closest US base to North Korea.
Chinese President Xi Jinping
and other world leaders have called for calm as both Pyongyang and Washington upped their saber-rattling rhetoric.
Over the weekend, Japan redeployed batteries of its land-based Patriot Advanced Capability-3 (PAC-3) missile interceptors to some of the prefectures over which the North Korean missiles would potentially fly: Shimane, Hiroshima and Kochi,.
A spokesman for SDF said the missiles were being deployed not to intercept missiles, but rather "just in case." He did not elaborate.
Sim Tack, a senior analyst for private intelligence firm Stratfor, said the Japanese batteries are designed for protecting the area where they are deployed, "(they are) not meant to shoot missiles out of the sky as they pass over Japan at high altitude."
The SDF spokesman added that the country's Aegis ballistic missile defense system was deployed in the waters between Japan and the Korean Peninsula, but would not give a specific location.
'Business as usual'
In a press briefing Monday, Guam Governor Eddie Baza Calvo and Homeland Security Adviser George Charfauros sought to reassure residents and visitors that Guam remained completely safe.
Calvo said that it was "business as usual" on the island. Charfauros added that the chance of a missile getting through the "various layers of defense" between North Korea and Guam were 0.0001%.
It remains to be seen whether Trump will pick up where he left off Friday and pile more verbal pressure on North Korea.
Either way, tensions seem set to rise as the US and South Korea prepare to hold annual exercises, called Ulchi-Freedom Guardian, which are scheduled to run from August 21 to 31.
The drills have long antagonized North Korea, and China has called for joint exercise to be called off as a concession to North Korea to freeze its weapons program.
Read more: http://www.cnn.com/2017/08/14/politics/north-korea-guam/index.html