From Alan Shearers stunning statement of intent to the White Feather making his mark on Teesside, half a dozen memorable debut starts to the season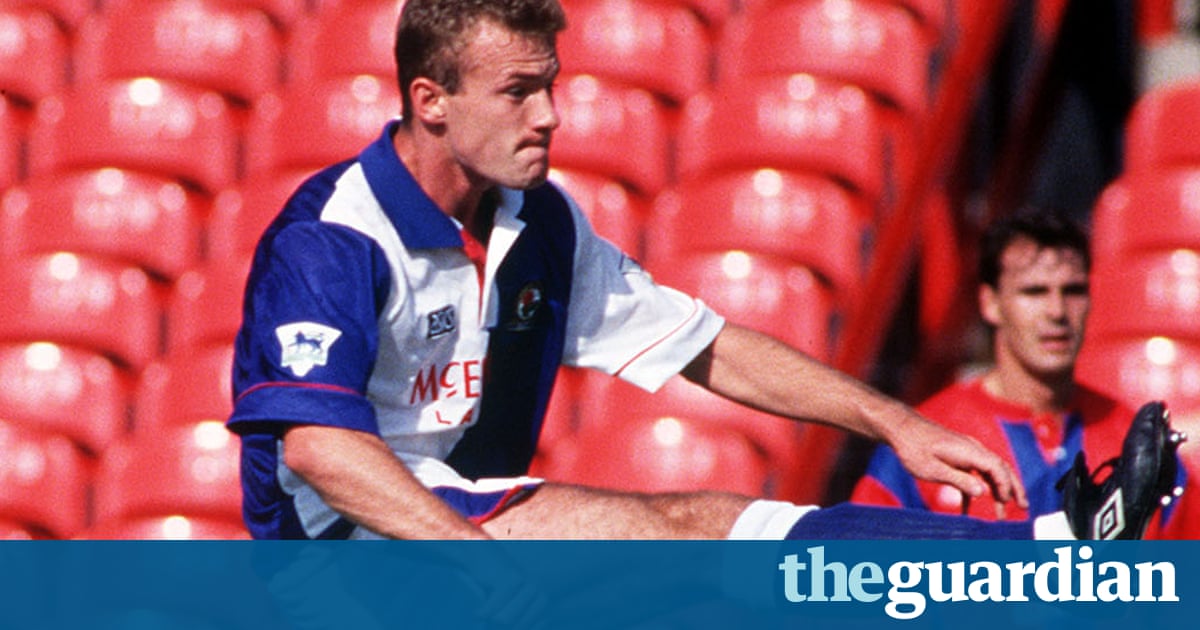 1) Alan Shearer (Crystal Palace v Blackburn, 1992)

The first exchanges of the new Premier League were bathed in iridescent sunshine and the glow felt even warmer after a humdinger at Selhurst Park. Alan Shearer had turned 22 two days previously; he had cost newly-promoted Blackburn, awash with Jack Walkers millions and carefree with ambition, a stunning 3.6m to snare from Southampton for context, Neymar was six months old at the time and there was considerable fascination in whether the trade between two unfashionable clubs would be successful.
At first things did not look promising. Mark Bright headed in a Richard Shaw cross to open the scoring for Palace on 37 minutes; that was cancelled out when Stuart Ripley produced a similar finish from Mike Newells centre but by the break Shearer had looked subdued. The roof was then raised early in the second half when Gareth Southgate, meeting a Bobby Mimms punch with interest, battered a shot in from range to notch his first league goal and one he is unlikely to have ever bettered.
That put Shearer firmly in the shade, but not for long. His first goal was stunning. It owed plenty to Newell, who nodded a long clearance perfectly into his path, but the cushioned first touch and looped half-volley over Nigel Martyn from 25 yards were works of perfection. There was no wheeling away with a solitary arm in the air for this one Shearer dashed over to beyond the corner flag and celebrated in front of the away supporters. He could do so again 15 minutes later, bringing the ball in from the left and, unhindered by the home defence, curled with deadly accuracy past Martyn who was a little slow to get across if we are being fussy from a similar distance. Simon Osborn equalised at the death, but the new signings contribution had signposted a new era even if nobody could quite anticipate just how spectacular his career, and indeed the pull of the Premier League, would go on to be. NA
2) Jrgen Klinsmann (Tottenham v Sheffield Wednesday, 1994)
The summer of 1994 was ostensibly a grim one for Tottenham. After being found guilty of making irregular payments to players, they were fined 600,000, docked 12 points and banned from the FA Cup (the fine was later increased, but the other punishments removed), so they seemingly tried to wash their troubles away by recruiting an absurd coterie of super-glamourous players. Ilie Dumitrescu and Gica Popescu were brought in from Steaua Bucharest and PSV respectively, but the real jewel was of course Jrgen Klinsmann, bought from Monaco. We had to buy someone big because people were doubting our commitment, said manager Ossie Ardiles.
Big, yes, but not exactly a sure thing: Klinsmann was 30, had only scored 10 goals the previous season after missing chunks of it with a knee injury. But any suggestion he would be a dud were dispelled 82 minutes into his debut, against Sheffield Wednesday at Hillsborough. As one of [Darren] Andertons deceptive, drifting crosses floated into the goalmouth, wrote David Lacey in the Guardian, he took one pace forward, two steps back and so completely fooled [Des] Walker that he appeared to score with a free header. It was nothing of the kind. Klinsmann put a lot of thought into his first English goal. Shortly afterwards he was taken from the field on a stretcher after clashing heads with Walker, but emerged with his faculties intact enough to offer some thoughts on his new dressing room. The chaps accepted me immediately, he said. They saw a guy come in whos very simple, like them. Er, thanks Jrgen. NM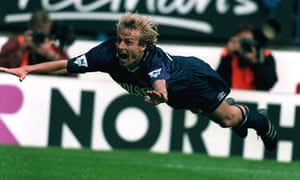 Read more: https://www.theguardian.com/football/blog/2017/aug/10/the-joy-of-six-premier-league-opening-day-debuts