Lincolnshire gang forced at least 18 victims to work for little or no pay and live in squalor for up to 26 years
Eleven members of a Lincolnshire family have been convicted of a series of modern slavery offences after forcing at least 18 victims including homeless people and some with learning disabilities to work for little or no pay and live in squalid conditions for up to 26 years.
The members of the Rooney family, who were based on Traveller sites in Lincoln, targeted vulnerable people, including some with alcohol or drug addiction, and deliberately looked for potential captives on the streets, Nottingham crown court heard.
The impact of the forced labour on the mental and physical health of the victims had been severe, prosecutors said, with some being malnourished, subjected to beatings and threatened. One of the victims was found to have been working for the family for 26 years.
The Rooneys lured in their captives with offers of work and accommodation but once they accepted they were allocated dilapidated caravans mostly with no heating, water or toilet facilities, prosecutors said. Some victims reported having to use rudimentary toilets in the woods nearby. One victim was ordered to dig his own grave and told thats where youre going if he did not sign a bogus work contract.
The convictions in four trials which can now be reported after restrictions were lifted by a judge were revealed a day after the National Crime Agency (NCA) said modern slavery and human trafficking was far more prevalent than previously thought, with potentially tens of thousands of victims in the UK.
With about 3,800 victims identified in 2016 and suspicions of many unidentified cases, the NCA warned that exploitation that amounted to slavery was rife and often in plain sight. As you go about your normal and daily life there is a growing and good chance you will come across a victim, said the NCAs vulnerabilities director, Will Kerr.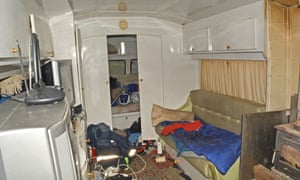 Read more: https://www.theguardian.com/uk-news/2017/aug/11/uk-family-found-guilty-of-enslaving-homeless-and-disabled-people