Reince Priebuss replacement, Gen John Kelly, will ensure discipline, says Kellyanne Conway as Mick Mulvaney describes Priebus as a bit more laid back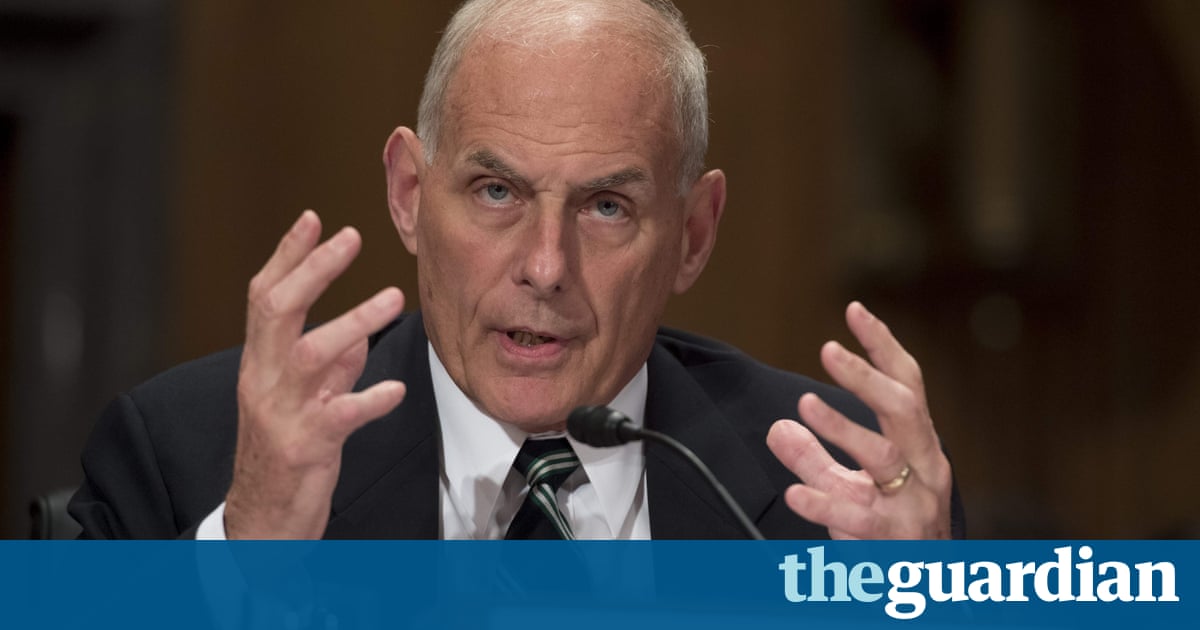 Donald Trumps new chief of staff, Gen John Kelly, will instil discipline and a clear chain of command in the White House, senior staffers have claimed.
After a disastrous week of legislative failure and poisonous infighting culminated in the removal of chief of staff Reince Priebus and his replacement with the retired US Marine Corps general who has been leading the Department of Homeland Security, Trumps adviser Kellyanne Conway said she was getting ready to obey orders.
I will do whatever the president and our new chief ask me to do, Conway told Fox News Sunday. Im always a protocol and pecking order kind of gal.
Mick Mulvaney, director of the Office of Management and Budget, told CNNs State of the Union he absolutely expected better discipline in the West Wing under Kelly, and added that the president enjoys working with generals.
The defense secretary, James Mattis, is also a retired US Marine Corps general; HR McMaster replaced another US army general, Michael Flynn, as national security adviser.
Mulvaney said Priebus had been a bit more laid back and independent in the way he ran the office and added: The president wants a little bit more discipline, a little more structure in there.
This week saw anything but discipline from Trump, his staff and Republicans in Congress. In the early hours of Friday, the Senate attempt to repeal Barack Obamas flagship healthcare law fell victim to three party rebels, amid high drama. That came at the end of a chaotic spell in which the new communications director, Anthony Scaramucci, whose appointment caused the former press secretary Sean Spicer to quit the week before, publicly excoriated Priebus in a profane rant to a New Yorker journalist and threatened to sack the entire White House comms team if leaks to the press did not stop.
The president, meanwhile, gave controversial speeches to audiences of Boy Scouts and police officers and publicly berated his attorney general, Jeff Sessions, for recusing himself from investigations into links between Trump advisers and Russia during the 2016 election.
On Sunday, Conway defended the presidents right to criticize Sessions, who was the subject of an ABC report that said some White House advisers are pushing Trump to move him to homeland security. Conway also complained about the Russia investigations and the medias breathless focus on them.
Theres no there there, she said. We were promised the next Watergate and we dont even have water polo, we dont have a watermelon.
Trump has repeatedly questioned the impartiality of Robert Mueller, the former FBI director appointed as special counsel leading the Russia investigation.
Speaking to ABCs This Week on Sunday, Hillary Clintons former campaign manager, John Podesta, whose emails were hacked and released during the election, said that as chief of staff, Kelly would have to protect the justice department and protect Bob Mueller and the investigation thats going on there from the continued assault by the president and by the White House.
Its going to be his job to provide a bulwark against interference by the White House, which, at the end of the day, is going to get them in more trouble rather than less, Podesta said.
Trump is expected this week to sign new sanctions against Russia, passed this week by huge congressional majorities and thus invulnerable to the presidential veto.
Mulvaney, meanwhile, acknowledged the impact of yet another failure by the Republican-led Congress to scrap Obamas healthcare law. Repealing and replacing the Affordable Care Act (ACA), nicknamed Obamacare, has been a central plank of Republican policy since 2010.
You cant promise folks you are going to do something for seven years and then not to do it, Mulvaney said.
The latest attempt to repeal the ACA sank when the Arizona senator John McCain, 80, returned to Washington after a diagnosis of brain cancer and joined Lisa Murkowski of Alaska and Susan Collins of Maine in voting no.
Trump spent the weekend tweeting demands that Republicans change Senate rules on vote tallies to lessen the impact of such defections though such a rule change would have made no difference in the latest healthcare vote. He also said no other Senate business should be attempted until a healthcare bill was passed. Mulvaney said this was now White House policy.
They need to stay, he said. They need to work. They need to pass something.
Trump also threatened on Twitter to scrap government subsidies for the insurance industry and for healthcare for members of Congress, which he called bailouts. Mulvaney, a former US representative, said such a move would only be fair.
Despite Republican repeal attempts, public opinion remains largely supportive of the ACA. Interviewed on CNN, Collins was asked about a video, spread on social media, which showed her being spontaneously applauded by airline passengers when she arrived back in Maine after the healthcare vote on Friday.
Read more: https://www.theguardian.com/us-news/2017/jul/30/trump-chief-of-staff-john-kelly-reince-priebus