The US president has assured Japan of total support as tensions increase in east Asia, the prime minister says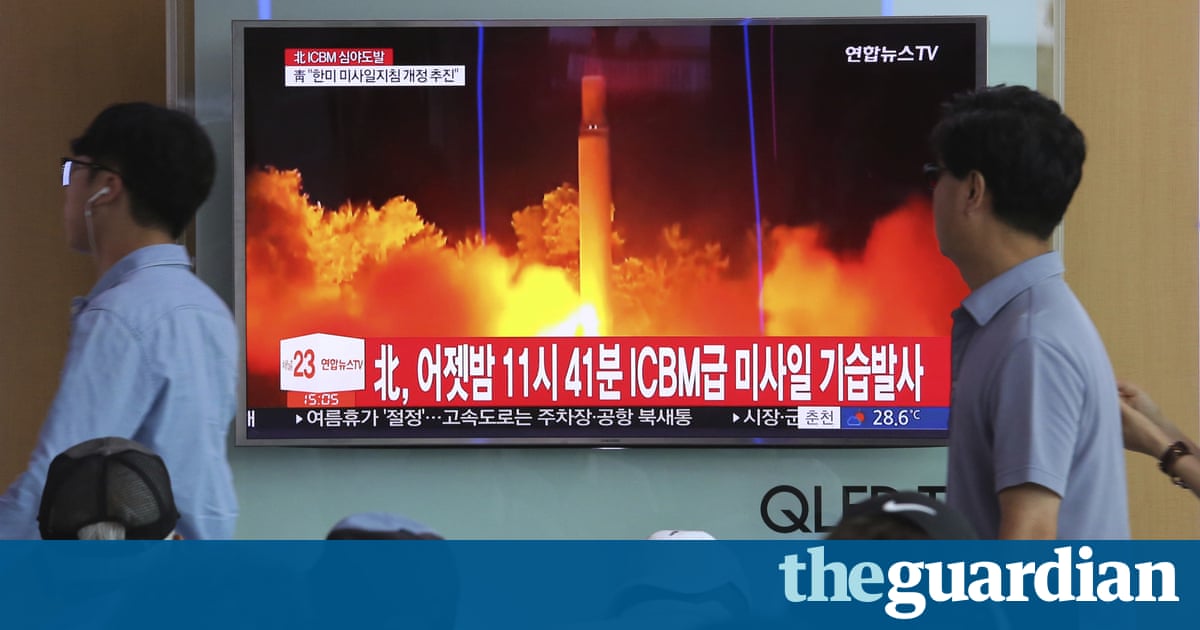 Donald Trump has vowed to take all necessary measures to protect United States allies from North Koreas evolving military threat, the Japanese prime minister, Shinzo Abe, has said following a phone conversation with the US president.
The talks between Trump and Abe came after North Korea conducted its second intercontinental ballistic missile (ICBM) test on Friday a move analysts said put most of the US within range of Pyongyangs missiles.
On Sunday the US mounted a show of force aimed at Kim Jong-uns regime, flying two supersonic B-1B bombers over the Korean peninsula. The commander of the Pacific air forces, General Terrence J OShaughnessy, warned his units were ready to hit North Korea with rapid, lethal, and overwhelming force.
Trump, who has been trying to convince Beijing to ramp up the pressure on Kim, condemned China for doing NOTHING to rein in the North Korean dictator.
But on Monday, Chinas state-run media hit back, with one newspaper branding Trump a greenhorn who had lashed out at Beijing because he felt embarrassed by his failure to prevent North Koreas latest test-launch.
It is unreasonable for Trump to turn his temper into criticism against China, the English-language Global Times tabloid said in an editorial, claiming Beijing had exerted enormous pressure on Pyongyang.
Trump claims that China could easily solve this problem, the Communist party controlled newspaper went on. But such a statement could only be made by a greenhorn US president who knows little about the North Korean nuclear issue. Pyongyang is determined to develop its nuclear and missile program and does not care about military threats from the US and South Korea. How could Chinese sanctions change the situation?
Another editorial in the same newspaper dismissed Trumps claims China was in a position to solve the North Korean crisis as an absurdity.
Speaking to reporters on Monday after his conversation with Trump, Abe said the pair had discussed fresh action against North Korea and praised the US presidents commitment to taking all necessary measures to protect allies.
I completely agreed with President Trump on the recognition that we must take further action, Abe told reporters, according to Japans Kyodo news agency.
We have made repeated efforts to resolve the North Korean issue peacefully, coordinating between Japan and the United States and with the international community, but North Korea has trampled all over these efforts and unilaterally escalated [the situation], Abe said. China, Russia and the rest of the international community must take seriously this undeniable fact and increase their pressure.
Nikki Haley, the US ambassador to the UN, also sought to sustain the pressure on Beijing. China must decide whether it is finally willing [to seriously challenge Kim Jong-un]. The time for talk is over, she said in a statement. On Saturday, US secretary of state, Rex Tillerson, accused China and Russia of bearing a unique and special responsibility for the growing North Korean threat.
Some experts believe Beijing is increasingly worried Trump might launch military action against North Korea. In April Trump unexpectedly ordered airstrikes against Syria while dining with Chinese president Xi Jinping at his Mar-a-Lago club.
Cheng Xiaohe, a North Korea specialist from Beijings Renmin University, said he believed the likelihood of US military action was growing but remained a high-risk move for Trump.
Read more: https://www.theguardian.com/world/2017/jul/31/trump-vows-all-necessary-measures-to-protect-allies-from-n-korea-says-abe