Senators argued late into the night but a partial healthcare repeal was defeated with the maverick Arizona senator proving crucial for the loss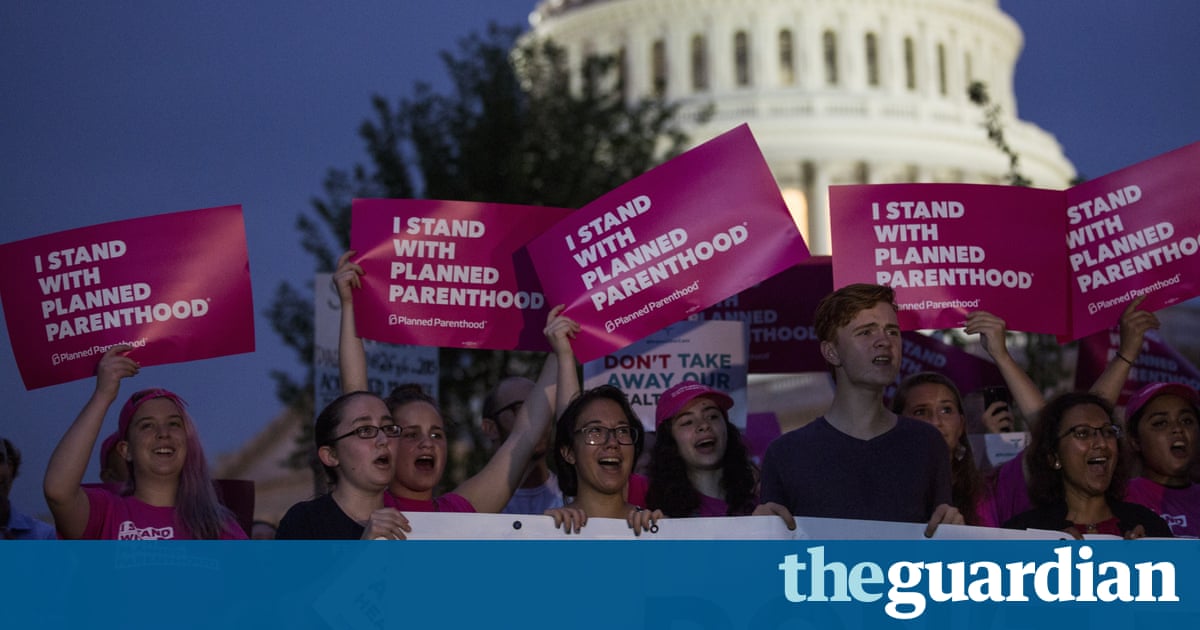 Arizona senator John McCain provided a historic and critical vote to torpedo the Obamacare repeal bill and with it Donald Trumps legislative agenda in a night of high drama on Capitol Hill.
McCain, who only returned to Washington earlier this week after a diagnosis of brain cancer, joined fellow Republicans Susan Collins of Maine and Lisa Murkowski of Alaska in voting down the so-called skinny repeal bill 51-49.
The six-term senator, who was his partys 2008 presidential candidate against Barack Obama, told reporters wait for the show before arriving for the vote in the Senate chamber.
Once there, McCain was lobbied by vice-president Mike Pence, who was on the floor of the Senate to preside in case of a tie, for over 20 minutes. The two went back and forth and occasionally disappeared from the chamber altogether.
But as the votes were cast, McCain, who had long nurtured a reputation as a maverick willing to buck party lines, delivered a black eye to Trump, who had famously mocked McCain as not a war hero during the 2016 campaign.
The dramatic conclusion ended months of furious negotiating that exposed a party riven over how to dismantle a law that extended healthcare coverage to millions of Americans and has taken root in several states, in some cases with the help of Republican governors.
Friday mornings vote also deprived Trump of his first major legislative victory six months into his turbulent administration. The president had campaigned on repealing Obamacare but intervened late in the process. His lobbying was sporadic, inconsistent and occasionally counterintuitive. He said in an interview that the House healthcare bill that passed in May and which the Senate bill mirrors, was mean.
Democrats have conceded that there are problems with Obamas healthcare law but remained uniformly opposed to any measure that would repeal it. That left Senate majority leader Mitch McConnell with a small margin of error. He could only lose two votes, with Pence on hand to cast a tie-breaking vote. He lost three when McCain voted no.
Nearly 20 million people gained healthcare coverage under Obamas Affordable Care Act. The law requires all Americans to have insurance or face a penalty and offered states funding incentives to expand Medicaid coverage for people with low-incomes.
The skinny repeal bill would have removed the so-called individual mandate and also the obligation on larger companies to pay for insurance for employees.
The bill was made public minutes before 10pm EDT on Thursday night, giving senators only a few hours to review the measure before voting on it. However, many Republican senators disdained it and viewed it as disaster and worse than Obamacare. Instead, they simply viewed it as a vehicle to advance the legislative process.
Senate leadership had touted the skinny bill as a mechanism to force a conference committee with the House, taking time to hash out a compromise. As rumblings grew that the House might simply put the bill to a swift up and down vote, many Republicans began to hesitate about the legislation.
In a new analysis released roughly an hour after the bill was filed, the nonpartisan Congressional Budget Committee estimated that 15 million people would lose coverage and premiums would rise by 20% compared to current law.
Read more: https://www.theguardian.com/us-news/2017/jul/28/healthcare-bill-us-senate-votes-down-obamacare-skinny-repeal-revolt-by-john-mccain