The outfielder combines huge power with modesty and charisma. He could stand to make hundreds of millions if he continues to dominate pitchers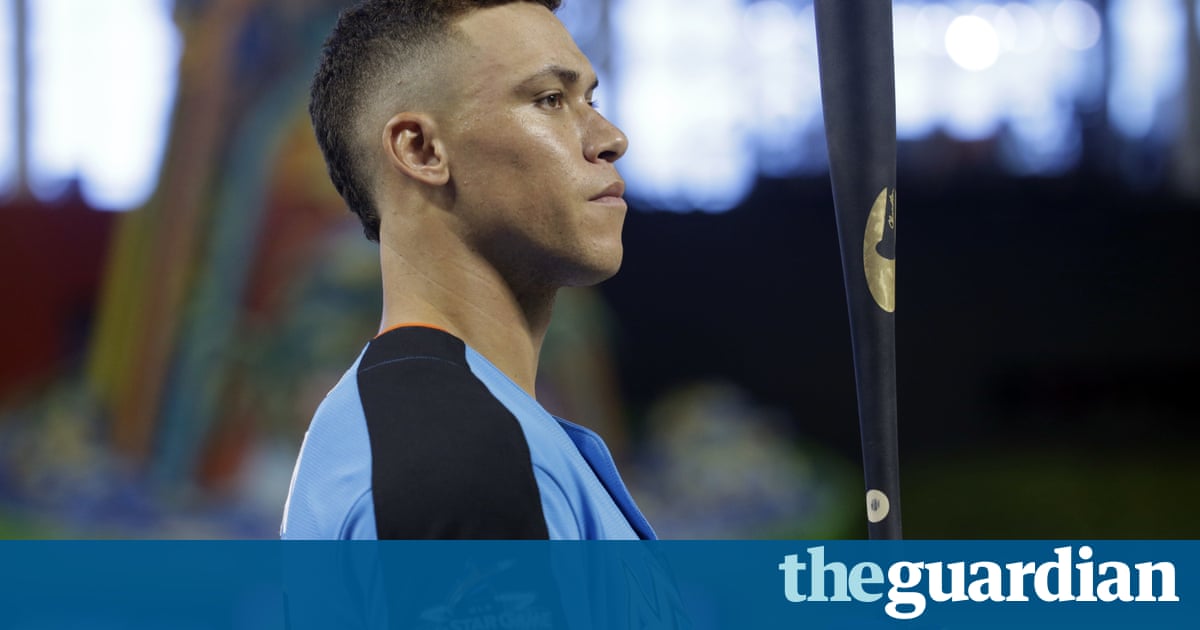 Prior to the night of 10 July, Aaron Judge, the New York Yankees 6ft 7in, 282lbs rookie right fielder, had already hammered out a reputation as a prodigious young slugger, having blasted 30 home runs, at an average of 416 feet, in the Yankees first 89 games.
But then came the annual Home Run Derby in Miami, which Judge won by bashing 47 dingers. Those 47 home runs covered a distance of four miles and caused yet another sizable aftershock in the already impressive, and still growing, Aaron Judge marketing earthquake.
Because he is modest, focused and a Yankee, the 25-year-old has been compared favorably with Derek Jeter. But Jeter was four inches shorter and 87lbs lighter. Jeter hit 260 home runs, but it took him 20 years.
Judge slipped into a slump after the All-Star Game and acknowledged that he has much work to do. Even if you include his 27-game audition late last season in the major leagues you can still be a rookie in your second season if you had fewer than 150 bats in your debut year he has not played a full season. But Judge, who makes $507,500 in salary, appears to have the potential to make hundreds of millions.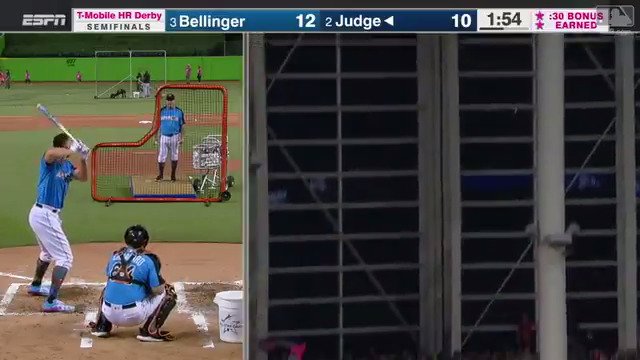 Baseball, it seems right now, has lots of reluctant stars, who really are letting their play do the talking, from Mike Trout to now Aaron Judge, Joe Favorito, a veteran sports business consultant and professor at Columbia University, told the Guardian. Given the length of the season, its understandable to some extent, but when you see the interest that is there, combined with what athletes in the NBA and the NFL can do during the season, marketability becomes a question of time management combined with the interest of the person. Some athletes will leave dollars on the table to be ultra selective and just concentrate on their craft.
However, Favorito added, we do live in a culture of now, and finding that balance for brands and for engagement is key, especially for someone whose iron is as hot as Aaron Judge. Derek Jeter found a way to balance, and I think you will see that with Aaron and his team as well. Could it be millions? Certainly. Does he have to keep performing? Absolutely. There is nothing more valuable to a brand than steak and sizzle, and he certainly has the beef.
Because of a relative lack of exposure internationally, baseball players tend to draw fewer endorsements than players in other sports, like soccer, tennis and basketball. But the money is not shabby. According to Forbes, Jeter made more than $130m in endorsements during his playing career, which ended in 2015.
Bryce Harper, the Washington Nationals outfielder, signed a record 10-year endorsement contract with Under Armour last year that was estimated to be worth more than $1m a year. Forbes said San Francisco catcher Buster Posey drew $4m in endorsements last year on top of his $20.6m salary. On top of that is the playing contract Judge could clinch if he can keep up his standards on the field consistently. Giancarlo Stanton another player famed for his home run power signed a 13-year, $325m contract (not including endorsements) in November 2014. Speculation is that Harper will be baseballs first $400m player.
Noah Garden, executive vice president for business for Major League Baseball, told the Guardian last week that there has been an extraordinary increase in the sales of Aaron Judge merchandise in the last few months.
For one, Judge has had the top-selling jersey since the beginning of May. Replicas of the jersey he wore during the Home Run Derby, were the best-selling All-Star jerseys in the last 10 years, with sales doubling after the derby. During All-Star Week, the most popular searches on MLBShop.com was Judge-related.
Garden wrote in an email that Judge has potential to be a major-league star for quite some time. The most important factor is success on the field, and the skill, power and overall performance he demonstrated over the first half of the season is what has caused the sudden and immense popularity he is enjoying right now. As a Yankee, he enjoys playing in the largest market in the US with the most media. His size makes him immediately noticeable and he is a terrific guy, who has taken all of the adulation he is receiving in stride.
Judge was adopted as an infant and grew up in Linden, California, a small town whose annual highlight, at least until this year, had been its cherry festival. He played collegiately at Fresno State and was a first-round draft choice of the Yankees in 2013.
In 1,297 at-bats over three minor-league seasons, however, Judge hit a mere 56 home runs. He had 19 home runs in 93 games last year at the Yankees top farm club in Scranton, Pennsylvania, and hit only four home runs in his month-long stint with the Yankees last year. But the Yankees were rebuilding and had a place for him to play. He hit 10 home runs in April, but seven more in May then another 10 in June. Not only was Judge drawing attention, but fans wanted to buy Judge merchandise.
According to Jeff Heckman, the director of e-commerce at Topps, the famous baseball trading card company, there has been a tremendous surge in the amount of Judge items sold on Topps.com in July.
For example, he said, the company offers a print-on-demand trading card called Topps NOW, which marks events immediately after they happen.
We have sold over 20,000 Aaron Judge Topps NOW cards in the last two weeks, Heckman told The Guardian. This includes his card for breaking the Yankees rookie home run record and winning the Home Run Derby. For the year, Judge is by far the most popular player with over 60,000 Topps NOW cards printed. We have also seen a surge in the number of Judges posters sold during this time a 300% growth.
When asked what he thought made Judge so appealing, Heckman said there was much more to it than his ability to pound 450-foot homers deep into the night.
Judges popularity is fueled by a number of unique factors in my opinion, Heckman said. The New York market, the Yankees, his size, power, humility, youth and the fascination with the home run. If one of these factors were taken away, it would hurt his popularity. I think there is also a fascination with people seeing how long he can sustain this performance. He is on a record pace, and it is a sport where fans constantly pay attention to the records and statistics.
An extended run of success for Judge is hardly guaranteed, and he would not be the first big-league slugger to start out fast, then cool off. Jose Abreu bashed 28 home runs in his first 79 games with the Chicago White Sox in 2014. He has hit an average of one homer every five games since.
Judge, too, plays for a Yankees team that was a pleasant surprise in the first half of the season but has struggled recently, and it is unlikely that Judge will be powering the Yankees to the playoffs, let alone the World Series.
But he has earned a name for himself and a couple of home-run calls, all word plays on his last name, from Yankees radio announcer John Sterling. Judge is determined to keep improving. Millions of dollars for him and the companies he represents, are waiting to be had.
Read more: https://www.theguardian.com/sport/blog/2017/jul/25/aaron-judge-how-the-yankees-slugger-could-become-baseballs-richest-player