Agriculture minister, former Brazilian soccer association president, and close friend of Michel Temer targeted in movement ahead of congressional vote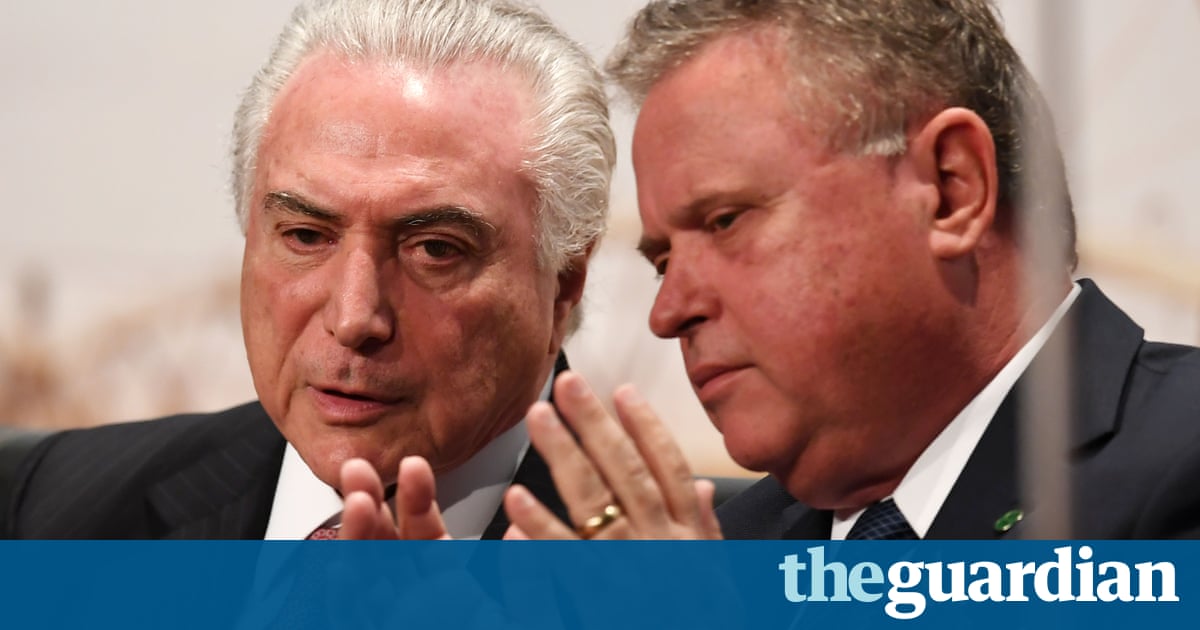 Hundreds of landless agricultural workers have invaded farms belonging to Brazils agriculture minister, the former president of the Brazilian soccer association, and a close friend of President Michel Temer.
The invasions on Tuesday form part of a campaign called Corrupt People! Give Us Back Our Land launched by the Landless Workers Movement known by its Portuguese initials, MST launched to ramp up pressure on Temer before a 2 August congressional vote on whether he should stand trial on corruption charges.
We are going to continue the occupations until the eve of the vote, said Joo Paulo Rodrigues, one of the MSTs national organisers.
Temers government has stumbled from crisis to crisis since he assumed power last year. The latest began in May, when he was secretly recorded during an unofficial, late-night meeting with Joesley Batista, whose family controls the meat giant JBS, apparently encouraging obstruction of a graft probe and recommending the executive deal with an aide. Temer has denied any wrongdoing and vowed to continue his governments programme of austerity measures.
Temer was charged with corruption in the case in June. If two-thirds of Brazils lower house of Congress approve the charges on 2 August, he will be suspended and tried by Brazils supreme court. Government ministers say they have enough support to ensure the vote does not pass.
One of the farms invaded, near Rondonpolis in Mato Grosso state, is owned by Amaggi, a farming and logistics giant founded by the father of Brazils agriculture minister, Blairo Maggi, who formerly presided over the company. In a statement, the company said it was concerned about the safety of 17 workers and their families.
Earlier this year, a supreme court judge authorised the investigation of Maggi and seven other ministers after executives of the Odebrecht construction conglomerate said they made illegal campaign donations to him. He denies the allegations.
Another farm invaded, in Rio de Janeiro state, is owned by Ricardo Teixeira, former president of the Brazilian Football Confederation and member of Fifas executive committee. In 2015, Teixeira was indicted in the United States for racketeering, conspiracy and corruption. More recently, Spanish prosecutors have issued an arrest warrant for him on charges of money laundering and racketeering.
A third invaded farm, in So Paulo state, is owned by Joo Lima Filho, a former police officer and close friend of Temer. A JBS executive alleged that Lima received bribe money for the president in testimony. Protesters also occupied land belonging to senator Ciro Nogueira, who is also being investigated following testimony from Odebrecht executives.
The MST is closely allied with the Workers party of the former presidents Dilma Rousseff and Luiz Incio Lula da Silva known as Lula. Rousseff was impeached last August and replaced by Temer, her former vice-president. Earlier this month, Lula was sentenced to nearly 10 years in jail on corruption and money laundering charges but remains at liberty while he appeals the sentence.
David Fleischer, emeritus professor of political science at the University of Braslia, said the invasions were unlikely to influence lawmakers in a congress where a powerful agribusiness lobby wields considerable influence.
Its a political manoeuvre, an attempt for headline grabbing. Fleisher said. Its pressure politics.
Read more: https://www.theguardian.com/world/2017/jul/25/brazil-landless-workers-invade-farms