Sun Zhengcai rose from farming studies in Hertfordshire to Communist party elite. Many fear his downfall signals turbulent times in Beijing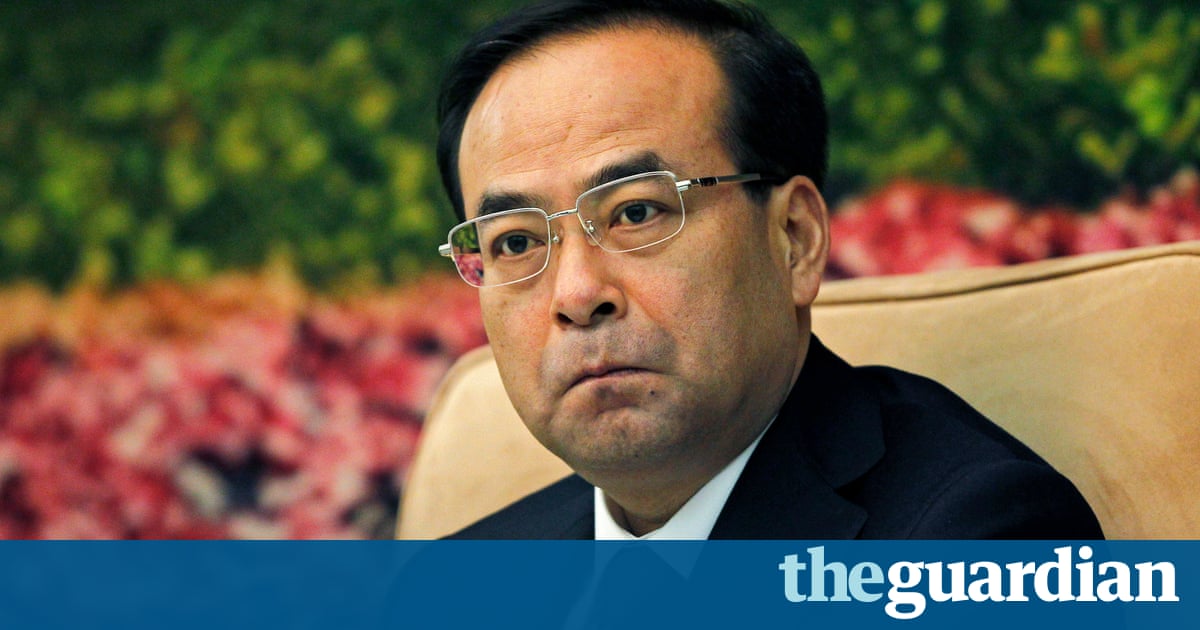 He studied agriculture in rural England and was tipped by some as Chinas future leader.
But on Tuesday morning Sun Zhengcais political obituary was splashed across the front page of the Communist partys official mouthpiece in a damning editorial entitled: Rule strictly over the party with iron discipline.
The investigation into comrade Sun Zhengcai sounds the alarm bell for the party, the Peoples Daily article warned, as it announced that the youngest member of Chinas political elite had been ejected from power for a serious violation of discipline.
Top cadres must hold firm political positions, temper their political characters and act in a manner consistent with the partys central committee with [president] Xi Jinping as its core, the broadsheet declared.
Just a few weeks ago, Sun, a 53-year-old former agriculture minister who studied farming at Hertfordshires Rothamstad research centre in the 1990s, was the high-flying party chief of one of the worlds fastest-growing cities, the sweltering Yangtze port of Chongqing.
Many believed he was being groomed for greatness and would use that job handed to him in late 2012 after the sensational downfall of flamboyant party leader Bo Xilai as a springboard from which to leap into one of seven highly-coveted spots on Chinas top ruling body, the politburo standing committee. Places on that elite council will be up for grabs later this year when Chinese leaders flock to Beijing for their quinquennial enclave, the 19th Communist party congress.
Such a promotion would likely have put Sun part of the so-called sixth generation of post-revolution leaders in line to succeed either Xi or premier Li Keqiang at the next party congress in 2022.
But Xis unforeseen decision to purge Sun has shredded not only those expectations but also the playbook governing how one-party China conducts political leadership successions. In doing so, some experts fear Xi may also have set in motion a new phase of political turbulence in the worlds number two economy.
A smooth leadership transition is really crucial to the survival of Chinese Communist party rule in China and this really throws a monkey wrench into the machine, said Susan Shirk, a US expert in elite Chinese politics who was deputy assistant secretary of state under Bill Clinton.
Shirk said that for almost two decades Chinas rulers had abided by an unofficial succession system designed to prevent both cut-throat and destabilising internecine power struggles and the rise of strongman dictators who could cling to power until they died or were violently overthrown.
According to those unwritten rules, presumptive heirs to the Communist partys top two jobs, general secretary and premier, should be informally anointed five years ahead of a full leadership transition, as had happened with Xi and Li in 2007.
Some had seen Sun as one of those two likely heirs the other was Guangdong party chief Hu Chunhua, who remains in power and the decision to bring him down now brought intense uncertainty about how the game will be played in the future, Shirk said. I think that has got to make the people at the top ranks of the Chinese communist party very uneasy about the risks that presents.
As with much about Chinese politics, the exact nature of Suns alleged crimes remains murky, as does the political rationale behind his defenestration.
The first hint of his undoing came when one of Xis feared corruption-busting teams descended on Chongqing late last year. In its subsequent report the group accused his administration of failing to eliminate the poisonous and pernicious ideological legacy of Bo Xilai, a bitter Xi rival, who had been ousted five years earlier after the murder of British businessman Neil Heywood sparked Chinas biggest political scandal in decades.
Then, in mid-July, came the unexpected and unexplained announcement that Sun had been replaced by a Xi loyalist who vowed to purify the citys political ecosystem. Sun is rumoured to have been taken into custody while attending a conference in Beijing.
Cheng Li, the director of the Brookings Institutes China Center, said it was unclear if Sun was facing accusations of corruption or political offences such as conspiring against Xi: It could be either or both.
Many believe Xi, who some suspect hopes to stay in power beyond 2022, viewed Sun as a power-hungry competitor who had to be eliminated. Li, an authority on the Communist partys elite, said that even before the purge: I have talked to many people who know Sun [and they said] That guy has a very strong personal ambition; you simply cannot believe what he says and what he promises.
In Chinese, you use the term yu [slippery or cunning].
Bill Bishop, the publisher of the influential Sinocism newsletter, said Suns demise was further proof that Xi who took power in 2012 and has been called Chinas most dominant leader since Mao was a masterful and steely political strategist.
As he sought to cement his status as Chinas omnipotent Chairman of Everything, Xi was using anti-corruption investigators to pick off rivals, who were replaced with supporters. Suns successor in Chongqing, Chen Miner, who worked under Xi during his five years as Zhejiang provinces party boss, now appears poised to claim a seat at the partys top table at this autumns congress.
Xi certainly looks like he would make Machiavelli and Mao quite proud, Bishop said.
Shirk, the chair of the 21st Century China Centre at the University of California, San Diego, said she saw Suns downfall not as as sign of Xis strength, but of the fragility of Chinas political system. If [Xi] upturns the smooth succession now, I think hes setting himself up for trouble, for some pushback from the rest of the party elite.
If they feel they are being put at risk and the whole party is being put at risk by a leader who is trying to claim too much of the power and privilege for himself, then I think there is a risk.
Im not saying it is necessarily an elite coup or something like that, but it could be.
For Sun Zhengcai, there is little doubt what now lies ahead.
Hell end up in jail, said Li.
Additional reporting by Wang Zhen
Read more: https://www.theguardian.com/world/2017/jul/25/china-future-president-ousted-xi-jinping-iron-discipline-sun-zhengcai