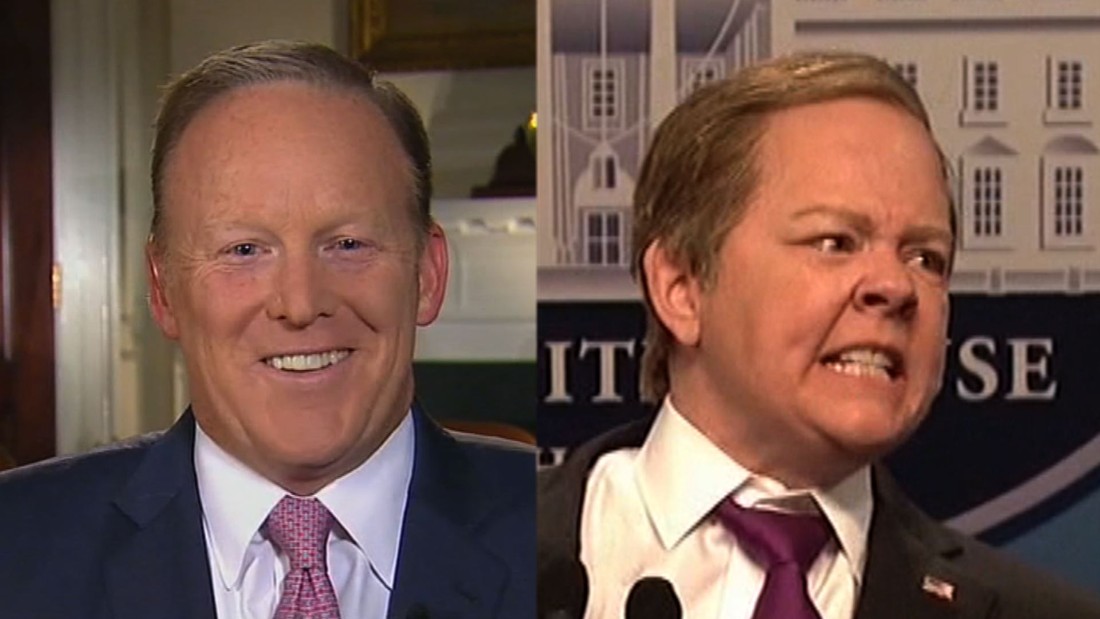 (CNN)Thanks to "Saturday Night Live,' we have two versions of Sean Spicer. There's the sympathetic one who Melissa McCarthy plays hilariously on the late-night show. And then there's the Spicer who has defended many of Donald Trump's outrageous claims with false statements and outright lies.
The problem is that the "SNL" version made Spicer far more endearing than he actually is. And this gives us a sense of the power of political comedy. Comedy can be used to make us laugh while reminding us of a politician's transgressions. But the risk is that comedy can make a flawed political figure seem sympathetic and even help us overlook his misconduct.
Just look at the reactions when Spicer announced his resignation as press secretary on Friday. Democratic Rep. Pramila Jaypal
tweeted
, "Huge blow for "SNL." Farewell, Sean Spicer." Journalist and CNN contributor April Ryan, who had battled with Spicer in the past tweeted, "It is over no more Melissa McCarthy!" While actor Zach Braff
wrote
on Twitter "actual footage of Sean Spicer" and shared a clip of McCarthy looking forlorn on the streets of New York.
Don't get me wrong — I had a similar reaction to the news of his resignation. But if McCarthy and "SNL" had not depicted Spicer in the fashion they had, do you think we would've seen such a strong reaction?
Instead, many of us would have responded the way The New York Times "
eulogized
" Spicer on Saturday — as the person who began by lying on day one as the White House spokesperson and only continued from there.
"Spicey" then headed off to confront Trump, played by Alec Baldwin, demanding to know if Trump ever lied to him. Baldwin replied, "Only since you started working here." Through comedy, "SNL" had erased Spicer's moral culpability for lying to us by making it all Trump's fault.
In contrast and thankfully, however, "SNL" has been careful not to forgive Trump's transgressions. In fact, in that same "SNL" sketch, Baldwin tells McCarthy to "kiss me." "Spicey" responded, "I can't — I have a wife and took vows." "SNL" then reminded us of Trump's vile comments on the Access Hollywood bus when Baldwin tells McCarthy, "I'm famous — it's okay."
In the time of Trump, comedy is playing a critical role in serving as both a cathartic release and source of empowerment for those who oppose Trump. But comedy shows must be aware that there's a fine line between causing us to laugh at a political figure's misconduct and minimizing them through comedy that makes him undeservedly likable.
Given the stakes, hopefully comedians will continue to use their skills to remind us of Trump's misconduct and not turn him into an orange haired version of "Spicey."
Read more: http://www.cnn.com/2017/07/23/opinions/sean-spicer-snl-challenge-opinion-obeidallah/index.html