After a six-month debate and seven years of promising they would repeal the Affordable Care Act, Republicans dont have many good options left to pass a bill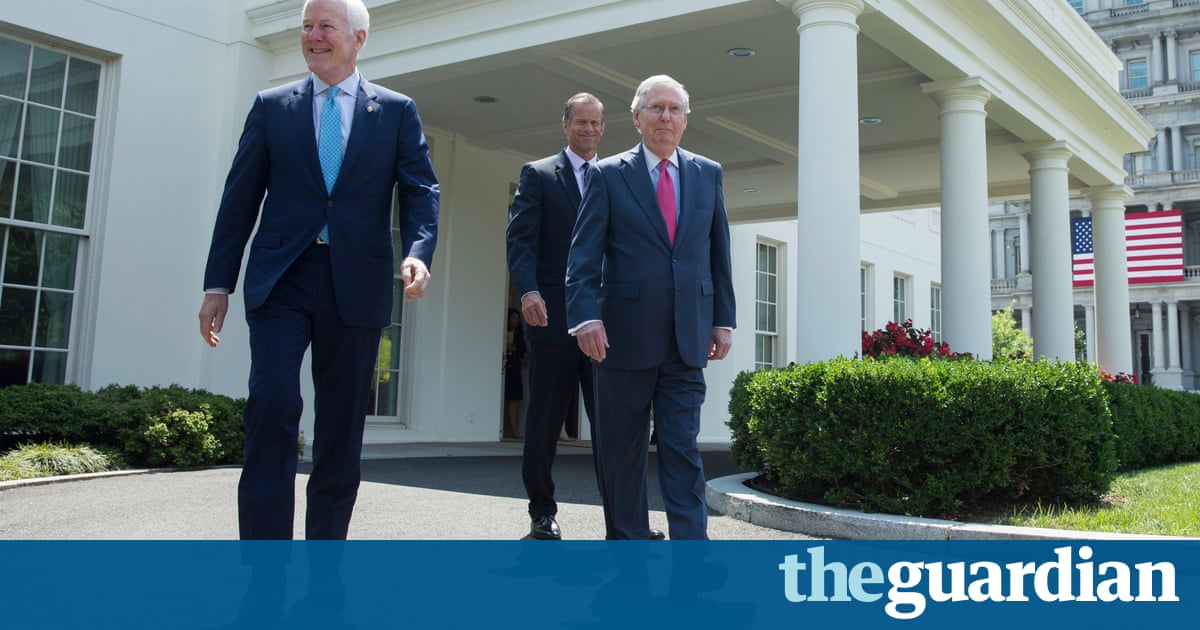 Mitch McConnell likes to say that finding 50 Republican votes to pass healthcare reform is like solving a Rubiks cube. As he pushes his party toward a vote expected early next week, the Senate majority leader is still furiously twisting the puzzle.
Republican senators left Washington on Thursday confused about what to expect and frustrated that they did not know what they would be asked to vote on. John Cornyn, the number two Senate Republican from Texas, said knowing the final shape of the healthcare bill in advance was a luxury we dont have.
Another blow landed, meanwhile, when the Senate parliamentarian, the chief adviser on the rules of the chamber, indicated that several of the provisions of the bill would need to meet a 60-vote threshold to pass. Republicans were planning to use a process known as budget reconciliation, which requires a simple majority of 51 votes.
That process, however, is limited to matters concerning taxes and the deficit, thereby making efforts to defund the womens healthcare provider Planned Parenthood, for example, ineligible for such treatment.
A 60-vote threshold would require at least some Democrats who see any attempt to undermine Barack Obamas Affordable Care Act (ACA) as a nonstarter to join Republicans. Republicans will therefore be forced to abandon some of the language within their bill, rendering its passage even more unlikely.
After a six-month debate in Congress and seven years of promising voters that they would repeal the ACA, popularly known as Obamacare, Republicans are therefore being asked to choose between two unpalatable options: a discarded and likely discredited plan to replace the 2010 healthcare law and a repeal-only measure.
A new analysis by the nonpartisan Congressional Budget Office (CBO) found that the latest draft of the Republican bill would leave 22 million more people uninsured compared to current law by 2026. If Republicans choose to repeal major provisions of the law without immediately replacing it, the CBO estimates that 32 million people will lose out in the same time.
Republican leadership is frantically trying to wrangle support to open debate on repeal. That would allow senators to offer countless amendments in a chaotic process that might still end in failure.
You cant debate something that you dont initiate the debate on, Cornyn said. Everybody can offer endless amendments so if anybodys got a better idea they can offer that and get a vote on it. In the end, 50 people are going to decide whether were going to have an outcome or not.
Some argue that its harmless to consider a range of options, one of which might bridge the gulf between moderates and conservatives. Others are wary of having to cast a number of contentious votes that could haunt tough reelection battles.
Democrats will almost certainly portray a vote by their opponents to advance the bill as a vote in favor of the legislation, irrespective of whether it ultimately succeeds. There is also pressure looming from the right, as conservative groups that want to see the Affordable Care Act repealed threaten to score how Republicans vote on the procedural motion.
That saga had appeared to come to a close at the beginning of the week, when Mike Lee of Utah and Jerry Moran of Kansas announced their opposition to the latest plan. They joined Rand Paul of Kentucky and Susan Collins of Maine as no votes, leaving leadership at least two shy of the 50 votes necessary to advance the bill.
McConnell announced his intention to hold a vote on a measure that would repeal the healthcare law without a replacement. Although the repeal-only approach would not go into effect for two years, thus buying Republicans time to craft an alternative, that path was rejected by three members of McConnells conference.
Trump, who tweeted his support for repeal only, reversed course on Wednesday. During a lunch at the White House, the president instructed Republicans to find workable solution. The intervention sparked a flurry of activity, including a late-night meeting that left Republicans feeling optimistic but without a concrete plan.
During the meeting, Republican senators received upsetting news: John McCain of Arizona had been diagnosed with brain cancer.
Read more: https://www.theguardian.com/us-news/2017/jul/22/republicans-face-two-unpalatable-options-on-replacement-healthcare-bill