Michael Vick has lost his damn mind.
The former NFL quarterback appeared on Fox Sport 1s Speak For Yourself on Monday where hosts asked him what his advice would be to former San Fransico 49er Colin Kaepernick, who is currently not signed with a team. Vicks response was full of anti-black respectability politics.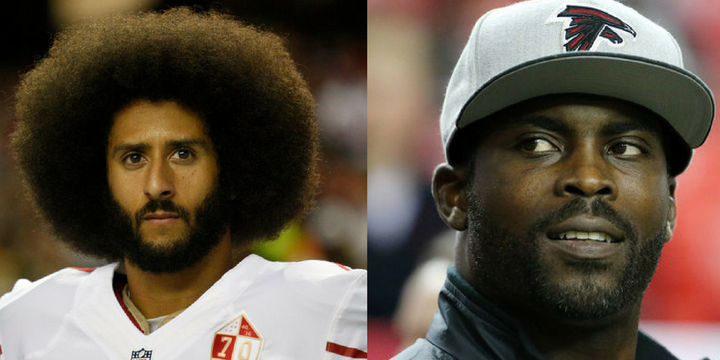 The first thing we got to get Colin to do is cut his hair, Vick told the hosts in the video below. Listen, Im not up here to try to be politically correct, but even if he puts cornrows in it, I dont think he should represent himself in that way in terms of just a hairstyle. Just go clean cut. Why not? Youre already dealing with a lot of controversy surrounding this issue. What he needs to do is just try to be presentable.
Vick continued by saying he understands all of the social media stuff, referring to Kaepernicks efforts activism, but said its time for the unsigned quarterback to step up in a different way.
Co-host Jason Whitlock pointed out the irony in Vicks viewpoint, noting the image problem he had after serving time in jail from 2008-2009 after pleading guilty to running a dogfighting ring. You were the guy who wore the cornrows, wore the gold chains, played the whole hip-hop image, he said.
[I] had an afro at times, Vick responded. Even during the tough times, it was something that people would whisper in my ear, this is the way youre being perceived. I understand Colin. Hes a great kid. Hes a great kid. And the reason hes not playing has nothing to do with the national anthem. I think its more solely on his play but yea, everything takes precedent in terms of image, perception. You gotta clean it up, you gotta make sure you do it all right.
Vick said it was a difficult process for him to clean up, but it was one he had to accept in order to be presentable to the public and the judge.
After facing backlash on social media for his anti-black comments, Vick shared a statement on Twitter Tuesday.
Colin Kaepernicks hair has nothing to do with him not being on a NFL roster right now. Lets be clear! I wish only the best for Colin, he wrote. I stand by what Ive said about him being signed at some point this season to help a NFL club. I think he is a great kid who has a bright future and Im looking forward to seeing him on the field again. Trust and believe what I said was not in malice.
Kaepernick, who began rocking his afro after initiating his national anthem protest, tweeted the definition of Stockholm syndrome Tuesday morning a move that is being read as a response to Vick.
The Stockholm syndrome appears when an abused victim develops a kind of respect and empathy towards their abuser, the post read. This syndrome is also called traumatic bonding or victim brainwashing.
By defending the same racist attitudes that he faced during his 2008 trial for dogfighting (and well after he served 23 months in prison for the crime), Vick reinforces the idea that professionalism and respectability is aligned with whiteness.For years after being locked up, Vick had to jump through hoops on his road to redemption like black men in this country often do.
As recently as December 2016, while Vick fresh haircut and all was playing for the Atlanta Falcons, more than 35,000 fans petitioned for him to be excluded from the teams season finale. While the petitions page cited his dogfighting conviction as the reason, its Vicks blackness that ultimately made him irredeemable to white America.
Vicks advice to Kaepernick validates the oppressive mainstream view of whose appearance is acceptable (white peoples) and whose is not (black peoples). Respectability politics wont save us, boo.
Read more: http://www.huffingtonpost.com/entry/michael-vick-colin-kaepernick-hair_us_596e113fe4b0b95f893e2051