Comics, including Stephen Colbert and Trevor Noah, discussed President Trumps trip to France and the mounting pressure of the latest Russia revelations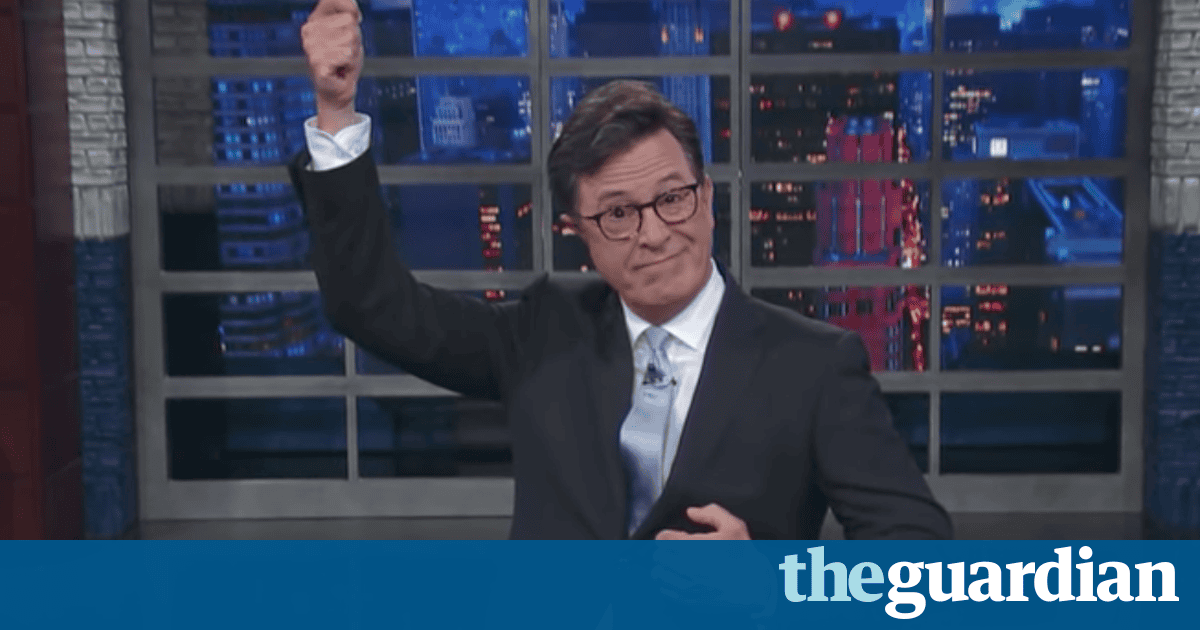 Late-night hosts discussed Donald Trumps trip to Paris, where he was ridiculed for the way he greeted Brigitte Macron.
Donald Trump is in France right now, and I feel je ne sais quoi, if you know what I mean, Stephen Colbert began. I dont, because I dont speak French.
Colbert continued: I dont blame Donald Trump for skipping town the man has had a really rough week. His son admitted to colluding with Russia. His healthcare plan is looking dead in the water. And his press secretary still has his head stuck in that honey pot. So Trump is now in Paris, and hes going to be so disappointed once he learns that oui oui doesnt mean what he thinks it does.
Colbert went on to address Trumps awkward interaction with Brigitte Macron, the wife of the French president. With Melania Trump and Emmanuel Macron standing by, Trump told the French first lady she was in great physical shape, adding that she was beautiful.
Today Trump met Frances first lady Brigitte Macron, and of course he treated her like any other woman by objectifying her, Colbert said, telling Trump: This is not one of your European wife-shopping trips. This is business. And the man has got to learn his limits.
Colbert continued: Then Trump held a joint press conference with newly elected French president and somehow-hotter Justin Trudeau Emmanuel Macron. Trump invoked Americas long history with France.
At the press conference, Trump suggested that not a lot of people know about the two countrys historic alliance.
Nope, just you, Colbert joked. We know. Gave us the Statue of Liberty, too. Remember that part?
Trevor Noah of Comedy Central discussed Trumps trip to France and the presidents interview with Pat Robertson, in which he continued to blame Hillary Clinton for various things.
After a week-long tirade on Twitter, President Trump last night finally decided to speak with words to an actual human being about the rumors of Russian collusion, Noah began. I say human being, but it was actually conservative pastor and Jeff Sessions troll cousin Pat Robertson.
In the interview, Trump said that Vladimir Putin had actually wanted Hillary Clinton to emerge victorious in the presidential election.
Here we go again, the host said. Hillary is behind everything thats going wrong. Trump is like political Hodor.
Noah went on: So, the new conspiracy theory is that Putin actually wanted Hillary to win. And thats why he colluded with Trump Jr? There is no problem President Trump cant blame on Hillary. Hell be in bed, like, I cant believe Hillary couldnt get it up tonight. Lock her up.
Noah took aim at Trump for his posturing in his meeting with Putin at last weeks G20 summit, where he apparently asked the Russian president if he had meddled in the election, a claim Putin denied. Almost all US intelligence agencies have said without doubt that the Russians interfered.
Trump stated that he had asked Putin twice if he did it, the second time in a totally different way.
Well, Im sold, Noah quipped. For the record, Vladimir Putin wasnt just a master KGB agent for 16 years and one of the Soviet Unions top spies in Berlin. But Trump knew he could break Putin by simply asking him the same question twice. That was his plan?
The host continued: As we speak, Trump is in France celebrating Bastille Day with French president Emmanuel Macron, who declared war on Trump by making him go to a museum with him. And President Trump retaliated by hitting on the French first lady in full view of everyone.
Noah then aired the clip, which has earned the president much ire in the last day. Donald J Trump just does not give a fuck, he concluded.
Read more: https://www.theguardian.com/culture/2017/jul/14/late-night-tv-trump-france-brigitte-macron