Business disagreements, traded insults and on-stage meltdowns have left the former bosom buddies recast as hip-hops best-known frenemies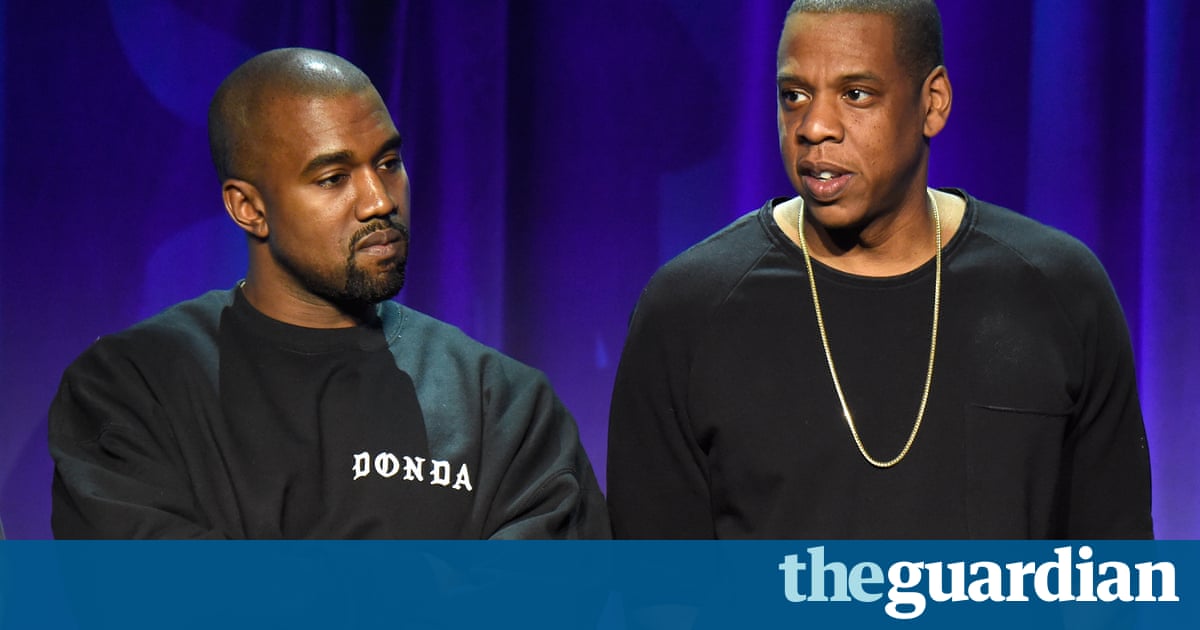 The mercurial visionary and the unflappable hit machine, Kanye West and Jay-Z, have been dominating hip-hop together for years. Kanyes beats inform whats often called Jays best album, 2001s The Blueprint, and Jay later launched Kanyes career as a rapper on his Roc-A-Fella label. They teamed up for 2011s acclaimed album Watch the Throne, with Kanye donning a leather kilt on their world tour. Kanye famously interrupted Taylor Swift to shout-out Jays wife Beyonc, who has returned the favor by appearing friendly to Kanyes wife Kim Kardashian from time to time.
But lately the wheels have come off the friendship wagon, as evidenced by the first song on Carters new album 4:44, called Kill Jay Z.
You got hurt because you did cool by Ye

You gave him 20 million without blinkin

He gave you 20 minutes on stage, fuck was he thinkin?

Fuck wrong with everybody? is what you sayin

But if everybodys crazy, youre the one thats insane
The albums 30 June release has left fans scrambling to figure out whats gone wrong between the two rap icons. Is their beef personal? Is it about business? Indeed, their music dealings remain entwined, with Kanyes last album The Life of Pablo launched on Tidal, the streaming service co-owned by Jay. Now, however, future collaborations are threatened.
The primary players arent talking, but sources claim the $20m line references an advance Kanye received for his Saint Pablo tour. (Or not, another source claims.) Meanwhile, Tidal has not yet paid him millions he is owed, Kanye reportedly claims, owing partly to the success of The Life of Pablo, which was, by all accounts, a boon to Tidal.
Most agree that Jays 20 minutes on stage lyric references a November Kanye concert in Sacramento, in which he fired off a series of disses and beguiling claims during a long rant. (This was about a month after he complained Jay hadnt consoled him after Kardashian was robbed at gunpoint.) In Sacramento, Kanye started by bellyaching about a Beyonc rumor that she wouldnt perform at the MTV Video Music Awards unless she won, in a category he was also nominated in. He next took aim at Jay, complaining that he aint calling me. It was far from traditional battle rap talk, however; in typical Kanye fashion it veered from vulnerable (I know you got killers; please dont send them at my head) to whiny (feelings matter, bro) to surreal (This is the way of thinking to make America great again). Lest we forget, this was during Kanyes brief post-election dalliance with Trump.
Jay was understandably upset that Kanye aired their laundry onstage, particularly if he himself had helped pay for said stage. Perhaps thats why his taunts on Kill Jay Z seem particularly cruel, especially the line youre the one thats insane. Thats because in November, shortly after the Sacramento concert, Kanye canceled his tour and checked himself into UCLA Medical Center in a matter that was dubbed a psychiatric emergency. He was determined to be suffering from exhaustion and checked out about a week later.
So, what to make of this? By the standards of another saga of rap friends turned foes Tupac Shakur v Biggie Smalls this dispute seems quite tame. In fact, given Kanyes long history of complaining about his celebrity associates (everyone from fashion designer Hedi Slimane to Mark Zuckerberg), its a wonder hes stayed cordial with Jay for this long.
And Jay has pissed off his protgs before as well, most notably former Roc-A-Fella rapper Beanie Siegel, who complained that Jay hadnt done enough to support him. Of course, when it comes to Jays most famous rivalry with fellow lauded New York rapper Nas that ended peacefully, with Nas in 2006 signing with the label Jay led at the time, Def Jam.
Our prediction? Jay is done for now, having said what he needed to say and administered a slap on the wrist. The pair might not be renting bouncy castles for their young children together anytime soon, but Jays got a business to run, and when its time for Kanyes next album, their lawyers will find a way to work something out. As for Kanye, well, as he made nice with Taylor Swift, hell eventually get around to humbling himself toward his mentor. But then again as with Taylor Swift hell inevitably piss him off once again. Its simply the price of admission for remaining a part of Kaynes unpredictable, high-flying circus act.
Read more: https://www.theguardian.com/music/2017/jul/07/jay-z-kanye-feud-tidal-beyonce-kim-kardashian