Experts say relationship is cooling between presidents Donald Trump and Xi Jinping as US loses patience over North Korea and South China Sea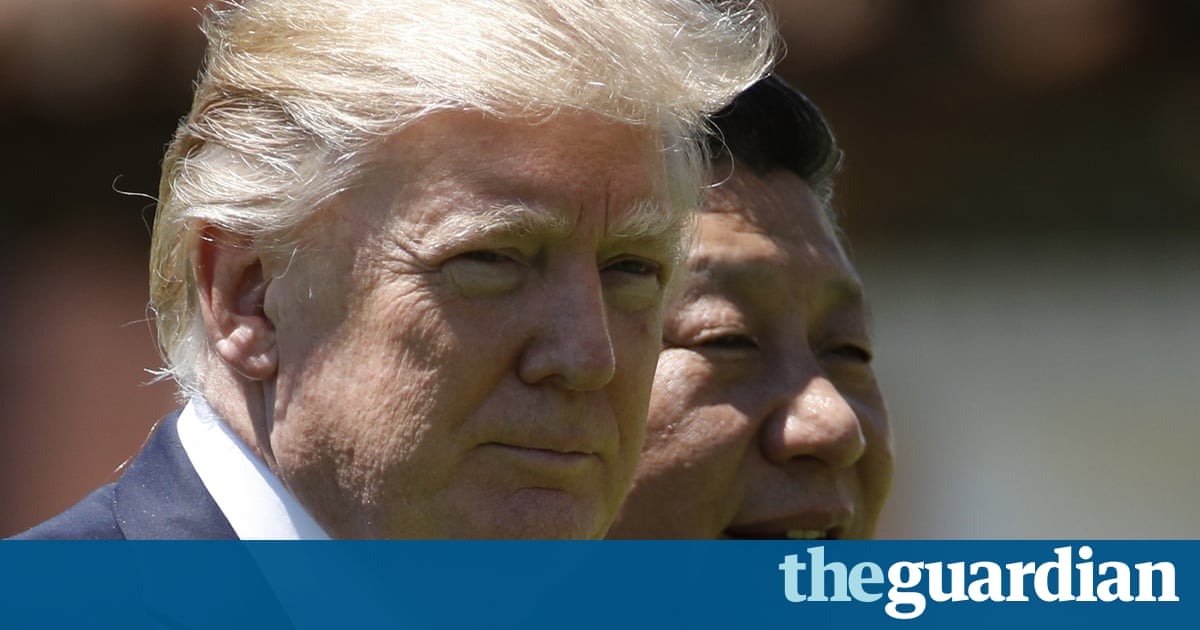 Relations between the worlds two largest economies look to be entering a new phase of turbulence after the US punctured Chinese celebrations of the anniversary of Hong Kongs return by unveiling sanctions against a Chinese bank linked to North Korea and a major arms sale to Taiwan .
The US state department on Thursday gave the green light to a total of $1.4bn in arms sales to Taiwan, a self-governing island which China considers its own territory.
Sanctions were also announced targeting a Chinese bank accused of serving as a conduit for illicit North Korean financial activity.
Two Chinese individuals and the Bank of Dandong, which US Treasury secretary Steve Mnuchin said was an institution of primary money-laundering concern, were blacklisted from the US financial system.
This bank has served as a gateway for North Korea to access the US and international financial systems, facilitating millions of dollars of transactions for companies involved in North Koreas nuclear and ballistic missile programs, Mnuchin told reporters. The United States will not stand for such action.
Mnuchin claimed the move was not retribution for a lack of Chinese action over North Korea. This is not directed at China, this is directed at a bank, as well as individuals and entities in China, he said.
However, both the sanctions and the arms sale are likely to anger China and experts said both moves clearly represented a deliberate response from a Trump White House that is losing patience with Beijing.
The US also chose the first day of Xis visit to call for more democracy in Hong Kong saying China should respect civil liberties, including press freedom.
The timing of the US actions just ahead of the 20th anniversary of Hong Kongs return to Beijing on 1 July was particularly provocative, experts in US-China relations said.
Bill Bishop, a Washington-based China specialist who publishes the influential Sinocism newsletter, said the decision to announce the arms sale and sanctions as president Xi Jinping arrived in Hong Kong to lead celebrations there was a calculated snub: It is very symbolic and it is basically raining on Xis parade in Hong Kong.
Following a two-day summit between Xi and US president Donald Trump at the latters Mar-a-Lago estate in April, ties between the US and China appeared to have warmed.
Trump, who had once accused China of being a top US enemy, hailed Xi as a great guy with whom he had enjoyed chemistry. The US president even backed away from claims that China was a currency manipulator.
However, Bishop said Trumps administration appeared to have lost patience with Chinas reluctance to make concessions on issues including trade and North Korea. The honeymoon is over and the fact is it was a pretty crappy honeymoon : I think they slept in different beds, Bishop said.
Washington has also become increasingly frustrated with Beijings continued militarisation of islands it claims in the South China Sea, a vital route for half of all global commercial shipping.
Speaking in Sydney this month, US secretary of defence James Mattis said Chinas construction of bases on islands were marked by a disregard for international law [and] its contempt for other nations interests, remarks that Beijing later condemned as irresponsible.
A US-based thinktank released new satellite imagery on Thursday showing freshly-built missile shelters, radar and communications facilities on three of the island reefs controlled by China.
The Asia Maritime Transparency Initiative (AMTI), part of Washingtons center for strategic and international studies, said images of Fiery Cross, Mischief and Subi reefs in the Spratly Islands also show housing for long-range surface-to-air missiles. Photos showed construction of underground structures, likely candidates to house munitions, AMTI said.
Last month, a US navy warship sailed within 12 nautical miles of Mischief reef in a contentious so-called freedom of navigation operation, the first such challenge since Trump took power.
Beijing can now deploy military assets, including combat aircraft and mobile missile launchers, to the Spratly Islands at any time, AMTI said.
The thinktank said new images showed a very large antennae array has been installed on Mischief reef that may boosts Beijings ability to monitor the surrounding waters.
We are definitely into a new phase of US-China relations now we are really, I think, entering into a much tougher phase. There is going to be a lot more friction in the relationship, said Bishop.
Its already hot in DC and it is probably going to get a lot hotter.
Read more: https://www.theguardian.com/world/2017/jun/30/us-china-honeymoon-over-washington-arms-taiwan-sanctions-bank