Philadelphia and Boston have agreed in principle on a trade where the 76ers would acquire the chance to take Markelle Fultz with the No1 pick
Philadelphia and Boston have agreed in principle on a trade where the 76ers would acquire the chance to take Markelle Fultz with the No1 pick in Thursdays NBA draft, a source has told the Associated Press.
The Celtics will get the No3 pick, plus an additional first-rounder in either 2018 or 2019, according to the source. The agreement between the Celtics and 76ers was struck not long after Fultz worked out for Philadelphia. Once the trade goes through, Philadelphia will own the NBAs No1 selection for the second straight season.
Fultz donning a Philadelphia cap as he arrived at the teams practice facility visited the 76ers in a hastily arranged get-to-know-you session, with the workout and meeting with team officials on his itinerary. That visit was essentially the final hurdle to clear before Boston and Philadelphia could decide to actually consummate the trade.
I dont really pay attention to everything thats going on, Fultz said. Im truly blessed to be in this position. Whatever happens, Im looking forward to taking my talents to wherever I go.
Barring any other changes before Thursday, the first four spots in this years draft order would mirror the first-four from last year: Philadelphia at No1, the Los Angeles Lakers at No2, Boston at No3 and Phoenix at No4.
Fultzs rise to stardom has been rapid. In 2014, he was playing junior varsity basketball in high school. Barely three years later, hes almost certainly going to become the No1 pick in the NBA draft and if he gets to start his pro career by calling Philadelphia his new home, hell be living a two-and-a-half hour drive from his hometown of Upper Marlboro, Maryland.
It would be pretty cool. Just being with a young team, Fultz said. The upside of it would be crazy. Im close to home, so a lot of my family can come out and just show love. This city has great fans.
The 6ft 4in guard averaged 23.2 points, 5.7 rebounds and 5.9 assists in 25 games during his lone college season at Washington, excelling on a team that finished 9-22 and lost its final 13 games. Fultz led the Pac-12 in scoring and finished No6 among all Division I players, and was the top freshman scorer in the country.
Over the past 10 seasons, only two other freshmen had a better scoring average in college: Kevin Durant for Texas in 2006-07, and Michael Beasley for Kansas State in 2007-08. Durant and Beasley were both No2 draft picks. Fultz is apparently going to get taken one spot better. Ill do whatever it takes to help any team I go to win, Fultz said.
Philadelphia had the No1 draft spot three previous times, taking Doug Collins in 1973, Allen Iverson in 1996 and Ben Simmons a year ago.
The 76ers have a top-three pick for the fourth straight year: No3 Joel Embiid in 2014, No3 Jahlil Okafor in 2015 and Simmons in 2016. But with Fultz, Philadelphia which has asked its fans to endure some very dismal stretches and Trust The Process for the past few years would likely expect to turn a real corner toward respectability again.
Philadelphia went 28-54 this past season, after winning 19, 18 and 10 games respectively in the previous three seasons.
Last seasons improved win total came with Okafor (50), Embiid (31) and Simmons (0) combining for 81 appearances, as Philadelphias trend of being snakebitten by injuries continued. Embiid and Dario Saric will finish in the top three when rookie of the year results get announced on 26 June, and Simmons is expected to be ready for next season after recovering from foot surgery.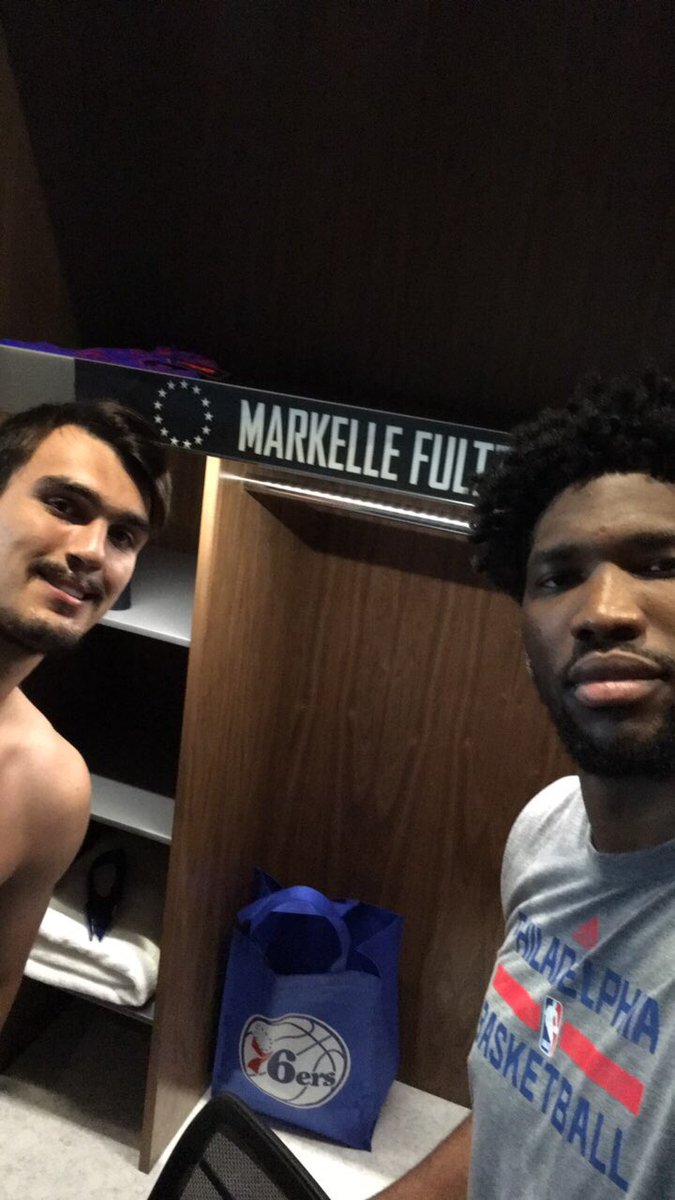 Embiid posted a photo on Saturday of he and Saric standing in front of a locker already bearing Fultzs name. Embiid, he and I have been talking before when I was in college, Fultz said. Hes a cool guy. Hes giving me tips and pointers and hes pretty funny, so when I saw that it was pretty cool and pretty funny. Im pretty happy that the players here want me to come here.
Read more: https://www.theguardian.com/sport/2017/jun/18/nba-draft-76ers-trade-celtics-no1-pick-markelle-fultz