Trump-supporting conspiracy theorist claims to have been lured with flattery while NBC rides Sandy Hook protests and urges viewers to tune in Sunday
Controversy over NBC host Megyn Kellys interview with Alex Jones is intensifying before its Sunday night broadcast, with the far-right conspiracy theorist and supporter of Donald Trump claiming to have secretly recorded his entire interaction with the former Fox News host and threatening to leak the results.
By Saturday evening, no such full release had been made. But on Friday, Jones, an anti-Muslim crusader who hosts a rightwing radio show and runs the Infowars website, claimed to have scooped the former Fox News host by releasing excerpts from a conversation about the possibility of staging an interview. Jones has also asked NBC to pull the Kelly piece because he claims he will be misrepresented.
Accusing Kelly of luring him with promises of a soft-ball profile, Jones aired clips of recordings, not challenged by NBC, in which Kelly was heard to say she was fascinated by him and wanted to show his different sides.
I promise you that when it [the show] is over you will be fine with it, Kelly said, adding that she will put some of Joness controversial remarks to him and allow him to respond.
This is not going to be a contentious, gotcha exchange, she promised.
Public criticism of the NBC interview has been driven by Joness past statements about the Sandy Hook school shooting of December 2012. Protest has spread on social media, network sponsors have applied pressure and bereaved families have voiced their concerns. Jones once posited that the whole shooting may have been staged by actors. He now says he believes the shooting happened. On Friday, he complained that Kelly has not acknowledged this while promoting the interview.
Nelba Mrquez-Greene, whose six-year-old daughter Ana Grace was killed in the shooting, told National Public Radio: This is a celebrity piece. This is a sensational piece. I dont think its helpful for anyone to be involved in this this is just so not OK.
Mrquez-Greene, who said it would be egregious for NBC to broadcast Kellys interview with Jones on Fathers Day, also wrote an opinion piece for the Washington Post in which she discussed the appalling harassment, including death threats, that Sandy Hook families suffer from conspiracy theorists.
NBC has remained unmoved, but the interview will not air on one affiliate station. WVIT is based in West Hartford, Connecticut and covers Sandy Hook and Newtown, home to the 20 children and six adults who died.
Megyn Kelly is a puppet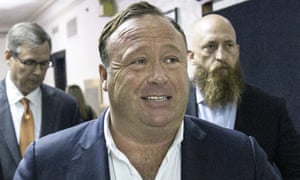 Read more: https://www.theguardian.com/media/2017/jun/18/alex-jones-megyn-kelly-nbc-interview-sandy-hook-trump