The much-ballyhooed showdown between the boxer and the UFC star is the latest in a long line of one-off publicity stunts foisted on the gullible masses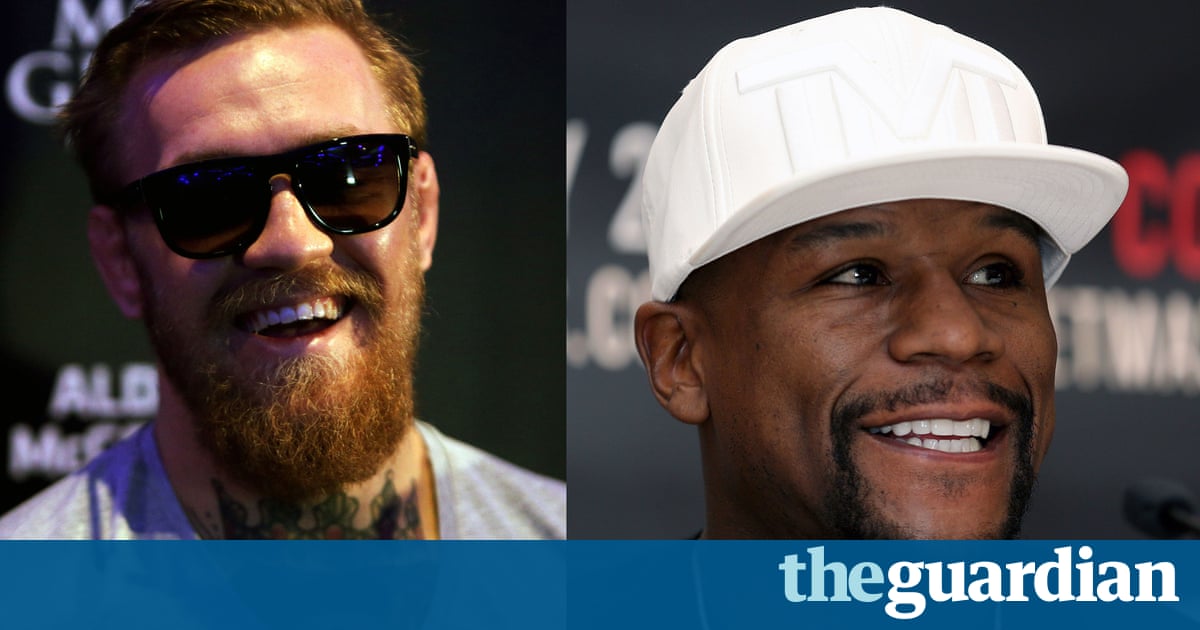 On Wednesday it was announced the finest boxer of his generation, unbeaten in 49 paying fights and 26 world championship contests with titles in five weight classes, will fight a scheduled 12-round boxing match against an opponent with no professional boxing experience. It doesnt take an expert to know how this one will play out.
But we groundlings love a sideshow and always have, making us susceptible to promotional stunts like these for as as long as anyone can remember. There was Muhammad Alis risible fight with the Japanese pro wrestler Antonio Inoki in 1976, widely regarded as the most embarrassing moment of the Greatests career. There were Jesse Owens lamentable match races against thoroughbred horses, a humiliating comedown for the Olympic hero who had stared down Hitler in Berlin. There was the much-ballyhooed 150m race between Donovan Bailey and Michael Johnson at Torontos SkyDome to determine the title of worlds fastest man, a made-for-TV event that went down 20 years ago this month.
Occasionally, one-offs have positive consequences, like the Battle of the Sexes between Billie Jean King and Bobby Riggs in 1973, which altered the perception of womens sports in many doubters eyes. But far more often they leave their participants debased unless theyre forgotten altogether: George Foreman, still nursing the psychological wounds of Zaire, taking on five hopelessly shopworn opponents in one night in 1975. Or the cringeworthy one-on-one match at the Trump Taj Mahal between NBA greats Kareem Abdul-Jabbar and Julius Erving, retired quadragenarians both, that aired on pay-per-view for $19.95 a pop.
Floyd Mayweather and Conor McGregor are hardly the first to prey on PT Barnums target market, but theyre certain to scale the tried-and-true formula to dizzying profits that would have left the old carnival barker doubled over in laughter. Showtime boxing czar Stephen Espinozas straight-faced assessment on Wednesday night offered an understated taste of the bluster to come: Weve never seen a combat sports event, or even a sporting event, of this magnitude.
Over the next 10 weeks, the combined promotional heft of Mayweather Promotions and the Ultimate Fighting Championship will attempt to seduce you into believing the outcome is anything but the foregone conclusion it is. Hell, some are already biting. Youll hear plenty about Floyds age. Youll hear about his struggles with left-handed opponents and the strides McGregor has made with his boxing. Later there will be race-baiting on both sides, the same cynical tactics that lifted Jack Johnson v James J Jeffries and Larry Holmes v Gerry Cooney and Mike Tyson v Peter McNeeley to record-breaking profits.
Thats the thing with one-offs: everyone involved knows they only need to fool the customer once. Its not bad for boxing. Its not bad for MMA. Its not anything except a quick-strike money grab with no enduring significance. Its an exciting fight until it actually starts and it will be forgotten the minute its over, unworthy of a chapter in either mans memoirs.
No amount of salesmanship, misdirection or promotional razzle-dazzle can alter the obvious: McGregors chances under the unified rules of boxing that will govern the 26 August meeting are so infinitesimal theyre hardly worth discussing. Its simply unfathomable that a man with zero fights will defeat any elite boxer, let alone one of the greatest defensive technicians to ever take up the gloves. Just as Mayweather would stand no chance in a mixed martial arts match. Shame on the thirsty Nevada Athletic Commission for sanctioning this circus.
Hardened skeptics pooh-poohed Mayweathers summit meeting with Manny Pacquiao for happening far past its sell-by date and were partially vindicated by a one-sided fight that left customers feeling let down and ripped off. That outrage almost feels quaint now. At least Floyd and Manny, in the anxious moments before the opening bell, were staring across the ring at the most decorated opponent either had ever been in with.
McGregor? There are 20-year-olds in boxing gyms right now that would light him up like a Christmas tree. Thats at least whats suggested by the infamous footage of the Irishmans sparring session last year with Chris van Heerden, a former welterweight belt-holder from South Africa. Sure, theres reason to believe his clumsy, plodding approach could improve with a training camp devoted completely to boxing. But theres simply no way he can catch up to the fistic aptitude of Mayweather, whos been drilled in the mysteries of the sport since childhood. Theres no such thing as a crash course for a lifelong craft.
Remind yourself what Mayweather did to some of the greatest boxers of his era. Were not even talking about the destruction of Diego Corrales, a fight where Mayweather entered an arguable underdog, before he surrendered his power by climbing in weight to chase the bigger money. Even late-period Floyds brittle hands didnt keep him from making the likes of Juan Manuel Marquez and Canelo Alvarez appear as if they were stumbling around in the dark trying to find the light switch. If that lot couldnt even find let alone hurt Mayweather, what hope does our Conor have?
Making this fight required the improbable reconciliation of warring interests. But Mayweather-McGregor was inevitable because whenever theres enough money on the table, people find a way to make things happen. You cant blame the fighters for taking the payday. The only reason its happening is because they dont merely think youre gullible enough to buy it. Theyre certain of it.
On Saturday night, Andre Ward and Sergey Kovalev will meet in a rematch of their terrific unified light heavyweight title fight in November. It is, at least by one metric, the best fight that can be made today: Ward and Kovalev are rated the two best prizefighters in the world, pound for pound, by Ring magazine. As a genuine sports experience, it will be a hundred times better than Mayweather-McGregor and, especially after Wednesdays announcement, is doomed to receive one-hundredth of the attention.
Were poorer for that, but we get what we deserve.
Read more: https://www.theguardian.com/sport/2017/jun/15/conor-mcgregor-floyd-mayweather-fight-ufc-boxing