Early Wednesday morning in Alexandria, Virginia, a 66-year-old white man opened fire on a group of Republican lawmakers practicing for an upcoming charity baseball game. Six were injured, including House Majority Whip Steve Scalise (R-La.), who remains in critical condition.
But hours later and a few miles away inside the U.S. Senate, a hearing on violent extremism paid little to no attention to extremism of this non-Muslim variety. Instead three selected witnesses spoke in sweeping generalizations about the worlds second-largest religion, and submitted wild conspiracy theories about American Muslims into the public record.
The Senate Homeland Security and Governmental Affairs subcommittee hearing onIdeology and Terror: Understanding the Tools, Tactics, and Techniques of Violent Extremism was organized by Sen. Ron Johnson (R-WI).
Among the witnesses invited to testify were Ayaan Hirsi Ali and Asra Nomani, both of whom are known less for their expertise on extremism than they are for their spreading fear of Islam.
Ali, a Somali-born former Dutch Member of Parliament, is listed as an anti-Muslim extremist by the Southern Poverty Law Center. Shes called Islam a destructive, nihilistic cult of death which needs to be defeated militarily. She has said that Islam is at war with America and that there is no moderate Islam.
Nomani, a Muslim-American and former reporter at the Wall Street Journal, has supported the profiling of Muslims at airports and said she was relieved the NYPD engaged in mass, suspicion-less surveillance of Muslims in New York. She made headlines in 2016 when she declared her support for President Donald Trumps campaign that was awash in anti-Muslim vitriol. She later went on to support Trumps Muslim ban.
In Alis and Nomanis submitted testimonies Wednesday, the pair describe mainstream American Muslim organizations like the Council on American-Islamic Relations and the Muslim Public Affairs Council as players in a worldwide conspiracy to Islamize Western countries like the U.S., replacing their laws with brutal interpretations of Sharia, or Islamic law.
Both of their testimonies take on a decidedly McCarthy-esque tone at times, raising alarm over, as Ali puts it, Muslim subversion from within.
Alis testimony speaks glowingly of efforts in Europe to shut down mosques, and calls on Congress to give President Trump the power to identify and dismantle Islamist groups in the U.S.
Nomanis testimony states that we must investigate, expose and blacklist all state and non-state sponsors of Islamism, including mosques, nonprofits, schools, think tanks, academic institutions and thought leaders.
Another witness, John Lenczowski, founder and president of the Institute of World Politics, warned of civilizational Jihad, the unhinged conspiracy theory that Muslims are plotting to take over Western countries.
After immigrating to non-Muslim countries like the U.S.,Lenczowski writes in his testimony, Muslims seek to set up parallel societies for Sharia law, and then, through greater birth rates than those of the native population establish irreversible and preponderate political influence.
Lenczowskis testimony also dredged up other thoroughly debunked ideas. He says there are no-go zones in Europe there are not where the native police cannot venture without unusual danger… He also states that Sharia law is supplanting U.S. law in some places. It is not.
Wednesdays hearing was the tenth held by Sen. Johnson on violent extremism, all of which have focused exclusively on radical jihadism.
We face a threat from a variety of sources on radicalization, including white supremacists, eco-terrorists, ISIS, al Qaeda sympathizers, Sen. Claire McCaskill (D-Missouri), the subcommittees leading Democrat, said in her opening statement.
In fact, non-Muslim extremism has taken nearly as many lives since Sept. 11 as so-called radical Jihadism in the U.S. As Foreign Policy notes, a 2017 U.S. Government Accountability Office report found that far-right extremists killed 106 people in the United States between Sept. 12, 2001 and Dec. 31, 2016. Islamic extremists killed 119 people during that same time period.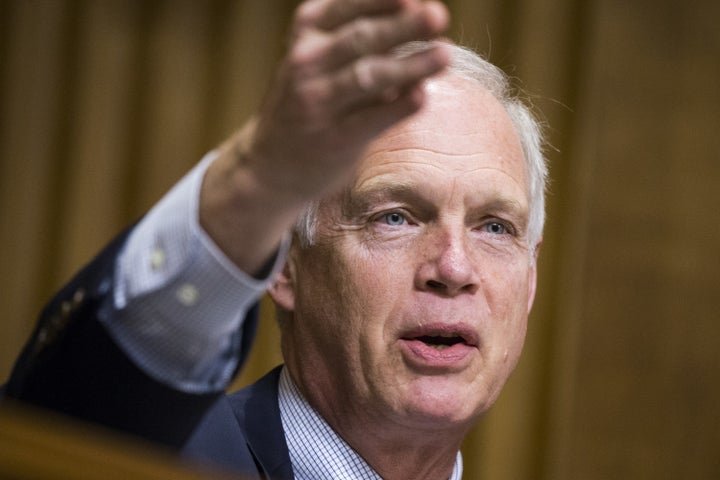 In a submitted statement to the Senate Wednesday, the Muslim Public Affairs Council said it was dismayed that the hearing focused almost exclusively on the Muslim community.
The singling out of Muslims in this manner only breeds fear, cements a narrative of a cosmic war between Islam against the West, and flies in the face of actual trends of domestic violent extremism, MPAC wrote.
MPAC also expressed concern over the selection of Ali and Nomani as panelists at Wednesdays hearing.
It is great cause for alarm that neither of the panelists who purport to understand the American Muslim experience have any demonstrable experience working with American Muslim communities, MPAC wrote. If they had, they would know that American Muslims across the nation work tirelessly to make our country safer, provide essential services to their congregations, and contribute to the prosperity of our society.
Sen. Johnsons office did not respond to a HuffPost request for comment.
Read more: http://www.huffingtonpost.com/entry/senate-hearing-ayaan-hirsi-ali-asra-nomani_us_5942e7f2e4b01eab7a2c6b01