The San Antonio coach has led the team to five NBA championships but taking a team depleted by injuries and a retirement to the Conference finals was something else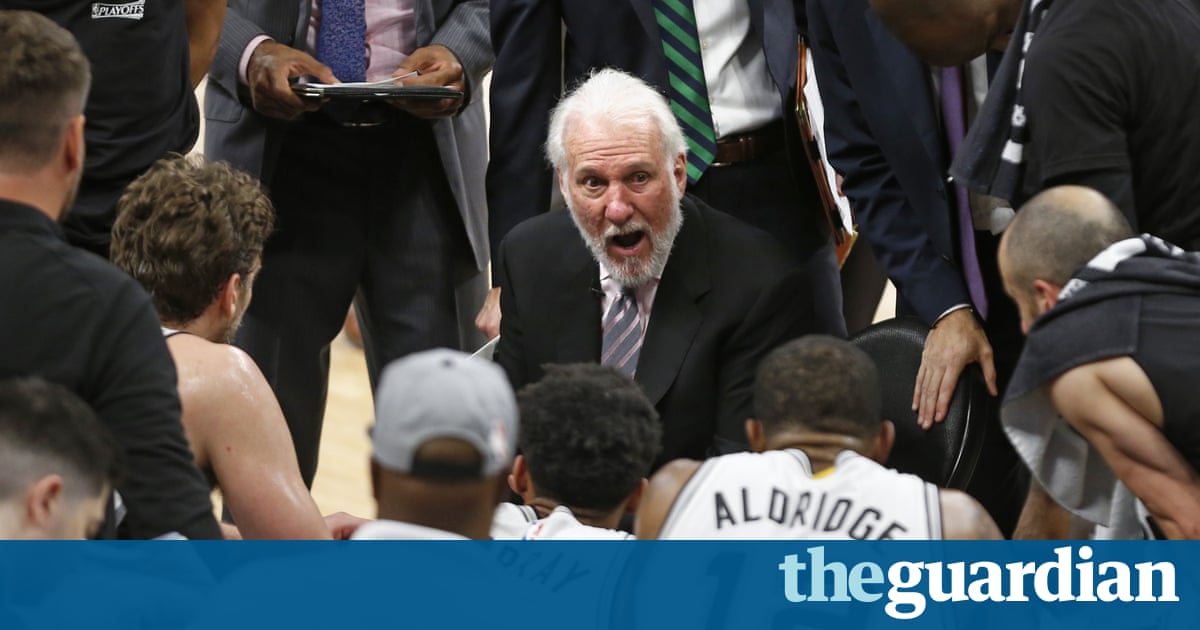 The San Antonio Spurs season is over eight wins short of the franchises sixth championship, swept by the Golden State Warriors and outscored by 84 points over the final three and one half games of the Western Conference Finals. So concludes the finest coaching performance in Gregg Popovichs 21 seasons leading the Spurs.
San Antonios line-up for their Game 4 defeat showed how little Popovich had to work with at the end. Patty Mills, Danny Green, Jonathon Simmons, whats left of LaMarcus Aldridge and then Manu Ginobili getting an honorary start for what may have been his final game in a remarkable NBA career. On the sidelines was MVP candidate Kawhi Leonard, out with an ankle injury since late in the first half of Game 1 when Golden States Zaza Pachulia accidentally undercut him (or committed basketball manslaughter, depending on your point of view).
San Antonio had already been playing without future Hall of Fame point guard Tony Parker and role player David Lee. And all of this carnage came in the first first season the Spurs played without Tim Duncan since Bob Dole was the Republican candidate for president.
Transitioning beyond a franchise legend sets most franchises back quite a long way. Yet Popovichs Spurs still went 61-21 this season, good for the second-best record in the NBA. Even losing a second franchise legend in the playoffs when Parker went down didnt do them. Popovich gave heavier minutes to Mills and 20-year old point guard Dejounte Murray San Antonios pick at No29 in last Junes draft and San Antonio closed out a Rockets team that thought itself a legit title contender in six games, taking Game 6 by a final score of 114-75 that wasnt nearly as close as those digits suggest. For extra bonus points, the Spurs humiliation of the Rockets in the series finale came without Leonard, who sat out the game with a tender ankle. Leonard returned for Game 1 of the Conference Finals with a vengeance, scoring 26 points in 24 minutes as the Spurs built a 23-point lead halfway through the third quarter. And then it all collapsed.
Popovich has won NBA coach of the year just three times in his 21 seasons. Likewise, LeBron James has only been deemed league MVP four times in 14 seasons and isnt even a finalist for the award this year. Both men are so consistently excellent that theres an urge among voters to almost punish them for it and feel the need to honor some other coach or player this year because surely Pop and LeBron will have more opportunities to win individual awards down the road. But if all was fair, each man would have double-digit trophies and no one could rightly complain. Maybe the better idea is to just name the NBAs coach of the year award the Pop Trophy and then it wont matter who they give it to.
The consistent winner that Popovich has maintained with a huge assist from general manager RC Buford is so remarkable precisely because it is a consistent winner. The Spurs have had one pick better than No24 in the draft in the last 20 years, and that was in 2010 when they selected … wait for it … 20th overall. Twenty consecutive playoff appearances in a row, never once picking in the lottery portion of the draft since landing Tim Duncan in 1997. Trust the process.
Despite the franchises five titles, the Spurs are never anybodys title pick heading into a new season. Theyre the anti-New England Patriots despite having the same number of championships. But even if Ginobili retires, and even if Parker soon follows him, the Spurs will be right back in contention next year, probably aided by a solid contributor taken 29th in the draft and an international import no one outside of San Antonios front office has ever heard of.
While Leonard transitioned into the teams go-to player in Duncans final years, its still remarkable how San Antonio churned right along this season without the longtime stoneface of the franchise. The 1990s Bulls didnt make it through the conference semis while Michael Jordan was Tebowing around in minor league baseball; when both Jordan and Pippen split a few years later, Chicago didnt crack 30 wins for five years. The Jazz missed the playoffs for three consecutive years without Karl Malone and John Stockton. The Celtics werent a factor for more than 15 years after Larry Bird retired. No one still has any idea what the post-Kobe Lakers are doing and the Mavericks are falling into oblivion and Dirk Nowitzki hasnt even retired yet. But in Year 1 AD (After Duncan), Popovichs Spurs were just one ankle-slaughter away from taking a 1-0 lead on the star-packed Golden State Warriors. Who knows what could have happened from there.
Usually things happen in the world and you go to work and you have your family and your friends and you do what you do, Popovich said during the Conference Finals. To this day, I feel like theres a cloud, a pall over the whole country in a paranoid, surreal sort of way … It has to do with the way one individual conducts himself, and thats embarrassing. Its dangerous to our institutions and what we all stand for and what we expect the country to be. For this individual, hes in a game show. Everything that happens begins and ends with him, not our people or our country. Every time he talks about those things, its a ruse. Disingenuous, cynical.
How good is Popovich at coaching basketball? Its so easy for him that in his spare time hes able to provide political commentary that is far more insightful than anything heard on CNN or any other network. At least I think that was political commentary. He could have been talking about Zaza Pachulia.
Read more: https://www.theguardian.com/sport/blog/2017/may/23/gregg-popovich-san-antonio-spurs-2017-season-playoffs