Avery Bradleys three-pointer dropped in with less than a second left and the Boston Celtics stunned the Cleveland Cavaliers 111-108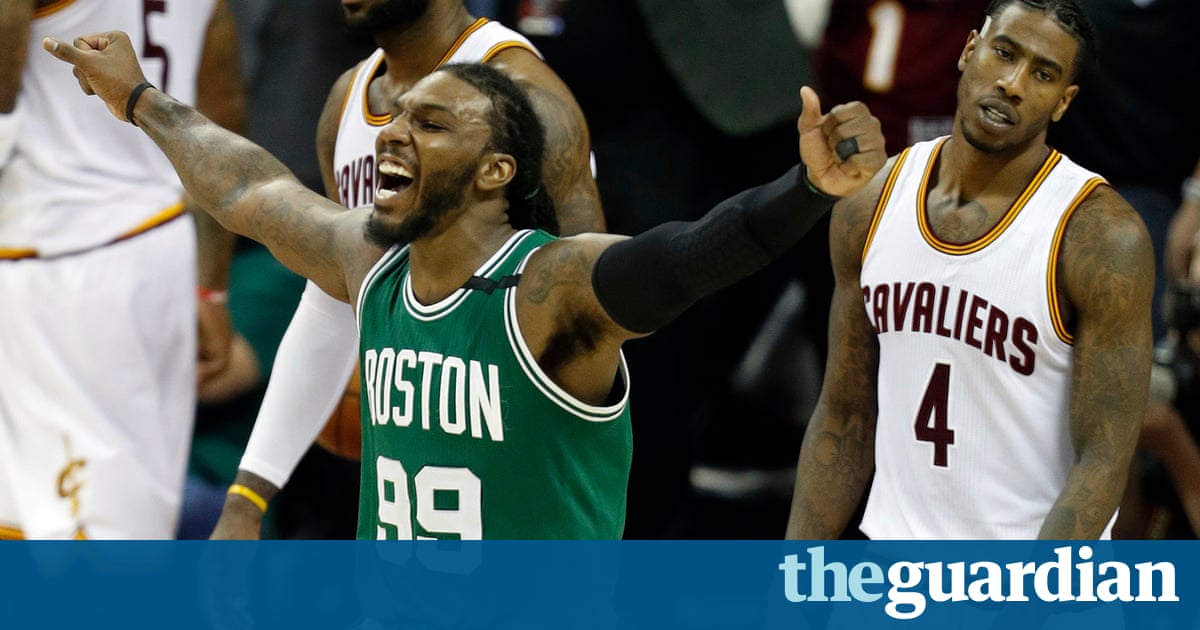 Avery Bradleys three-pointer danced around the rim and dropped in with less than a second left and the Boston Celtics, blown out in the first two games of the Eastern Conference finals and playing without star Isaiah Thomas, stunned the Cleveland Cavaliers 111-108 on Sunday night in Game 3 to end the champions 13-game postseason winning streak.
Bradleys shot from the left wing bounced on the rim four times before going down. It capped a furious comeback by the Celtics, who trailed by 21 in the third quarter before rallying to tighten up a series that appeared to be over.
Marcus Smart made seven three-pointers and scored 27 points, and Bradley had 20 points for the Celtics. They were given little chance after losing by 44 in Game 2 and then losing Thomas for the rest of the postseason because of a hip injury.
Everybody had to step up their game tonight especially with one of our brothers down, Smart said. Our love and support goes out to Isaiah. We wish he could be here but we understand. We just kept fighting. Everybody did their part.
Kyrie Irving scored 29 points, and Kevin Love had 28 for Cleveland. The Cavaliers dropped to 10-1 in the postseason with their first loss since Game 4 of last years Finals.
LeBron James had one of the worst games of his postseason career, finishing with 11 points and six turnovers.
I had a tough game, period not just in the second half, James said. Me personally, I didnt have it. My team-mates did a great job of keeping us in the game, building that lead. But me personally, I didnt have it. Thats all Ive got to say about my performance.
Still, the Cavs were in control leading 77-56 in the third quarter after making 14 3-points in the first half. But Cleveland got complacent, Boston got hot and the Celtics, who arrived at Quicken Loans Arena earlier on Sunday morning for their shootaround without Thomas and looking somewhat defeated, never gave up.
They caught the Cavs at 95-95 on Smarts three-pointer and then matched the Cavs basket for basket in the final minutes in one of the most entertaining games of what he been a mostly boring postseason.
Bostons Jonas Jerebkos baseline jumper put the Celtics ahead 108-106 with 30 seconds left before Irving scored on a drive to tie it with 10.7 seconds left. Following a timeout, the Celtics worked the ball to Bradley, who found himself open and then calmly knocked down a shot that goes straight into Celtics lore.
For Cleveland, the loss was a wake-up call on their march toward a possible third straight Finals and a seemingly inevitable rematch with Golden State. The Cavs had been playing a glorified game of H.O.R.S.E. with the Warriors, who are undefeated and can complete a sweep of San Antonio on Monday.
The Cavs hadnt lost in the postseason since Game 4 of last years finals, and they came in tied with the 1988-89 Los Angeles Showtime Lakers for the longest winning streak in postseason history.
With Thomas back home, the Celtics could be forgiven for feeling down after Thomas, their inspirational leader was shut down with a hip injury he first sustained in March. However, coach Brad Stevens liked his teams energy leading up to tipoff and felt confident they would play hard.
Our guys are itching to play, he said. Obviously, were here for a reason, and weve got tough-minded, competitive guys who have largely been guys that have had to really earn their way up in this league.
They earned their way back into the series.
Game 4 is Tuesday night in Cleveland.
Read more: https://www.theguardian.com/sport/2017/may/21/boston-celtics-cleveland-cavaliers-eastern-conference-finals