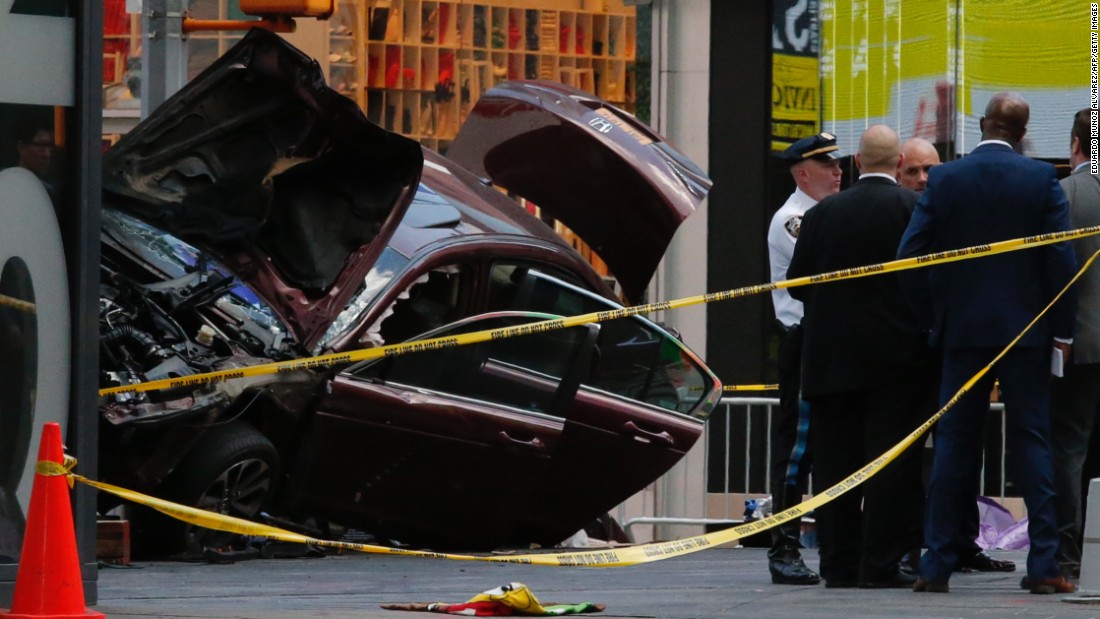 New York (CNN)Moments after barreling his car through the crowded sidewalks in Manhattan's Times Square, Richard Rojas told a traffic agent, "I wanted to kill them all," according to a criminal complaint.
A troubled man with a history of drunken driving, Rojas bolted from his maroon Honda Accord after his deadly midday rampage on Thursday that left one person dead and 20 others injured.
Rojas moved unsteadily, his eyes were glassy and his speech slurred after his car crashed to a stop, the complaint said.
"I smoked," he allegedly told an officer at the scene. He later told another officer that he was high on marijuana laced with PCP.
One day after allegedly making a U-turn and steering the car into the packed sidewalk for a three-block stretch, the 26-year-old suspect was arraigned on murder and other charges Friday. He did not enter a plea, and his lawyer later declined comment.
One surveillance video showed the car jump the curb and slam into a group of people, sending bodies tumbling over the hood of the speeding car.
Alyssa Elsman, an 18-year-old resident of Portage, Michigan, who was visiting the city, was killed. Authorities reported another 22 people were injured, but police revised the total to 20 on Friday.
Rojas, a Bronx resident who had served in the Navy, tested positive for PCP and told police that God made him do it, a law enforcement source told CNN.
The suspect, who suffered from "psychological issues," also told police he expected officers to shoot him, according to the source.
A history of mental health issues
Investigators are looking into the suspect's state of mind and psychological history in an attempt to determine a motive, the NYPD chief of Manhattan South Detectives William Aubry said.
New York Mayor Bill de Blasio told WNYC Radio Friday that Rojas had "demonstrated mental health issues going back to childhood" that "went unaddressed even during the time he was in the US military."
"It appears to be intentional in the sense that he was troubled and lashing out," de Blasio said of the incident. "At the root of this is an untreated mental health issue going back probably decades."
In addition to the murder charge, Rojas also faces 20 counts of attempted murder, one count of aggravated vehicular homicide and a count of attempted murder in the second degree, according to the criminal complaint.
Three victims were in critical condition Friday. A 38-year-old Canadian resident was in "very critical" condition, according to Aubry.
They are expected to survive, officials said.
The injured included Elsman's 13-year-old sister, Ava, according to Michelle Karpinski of Portage Public Schools.
Elsman was a 2016 graduate of Portage Central High School.
"Alyssa was the type of person who seemed very shy and reserved when you first met her, but once you started talking to her you realized she was smart, funny and engaging," principal Eric Alburtus said in a statement. "She will be deeply missed by the staff and students here."
Rojas has been arrested twice in New York — in 2015 and 2008 — for drunken driving, New York Police Commissioner James O'Neill said. In 2013, Rojas — while in the Navy — pleaded guilty to drunken driving, failure to pay a just debt, drunk and disorderly conduct and communicating a threat. A military judge sentenced him to three months confinement.
There is no indication that the incident in Times Square, which unfolded just before noon, was an act of terrorism, de Blasio and other officials said.
Harrowing scene in popular tourist area
Before striking pedestrians, the 2009 Honda Accord was "out of control," an emergency management official said.
do not come to Times Square!!!! My colleagues and I are safe.
The speeding car jumped the sidewalk on the west side of 7th Avenue at 42nd Street and struck several pedestrians before crashing at the northwest corner of 45th Street, police said.
Witnesses described a harrowing scene that started with screeching tires and ended with screams, chaos and a fiery crash at one of the world's most visited sites.
Elizabeth Long, of Dayton, Ohio, was walking to the Hard Rock Cafe when she saw a maroon car heading toward her on the sidewalk. Hearing screams and fearing that the car would hit her, she ran to a nearby building's revolving door.
"I wasn't even all the way in when the car sped by" about 10 feet away, said Long, a 54-year-old who was in town to see a musical.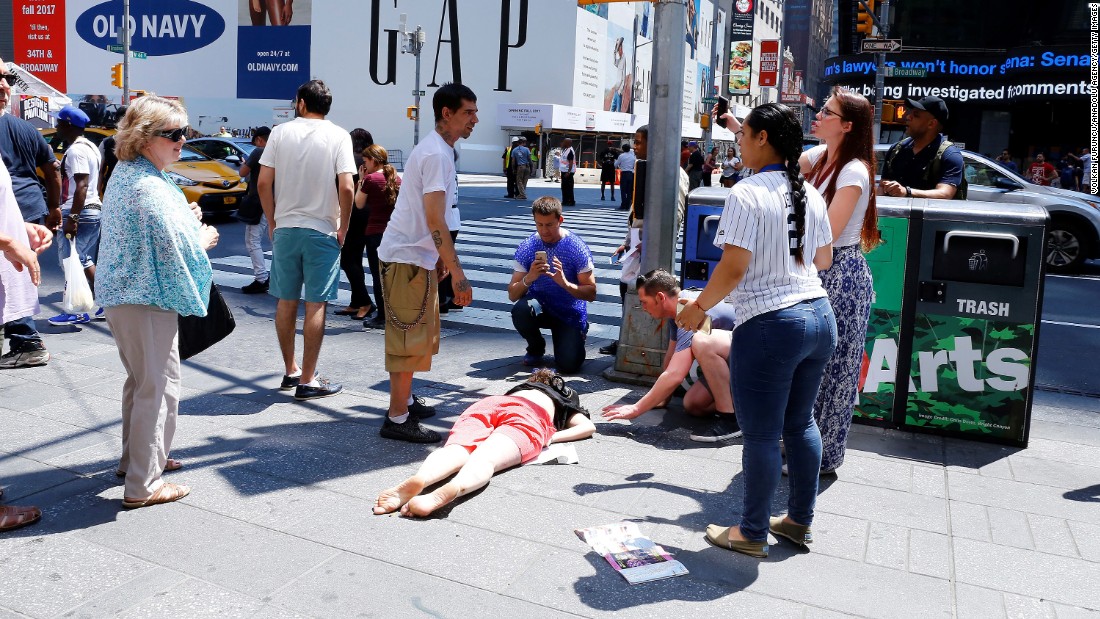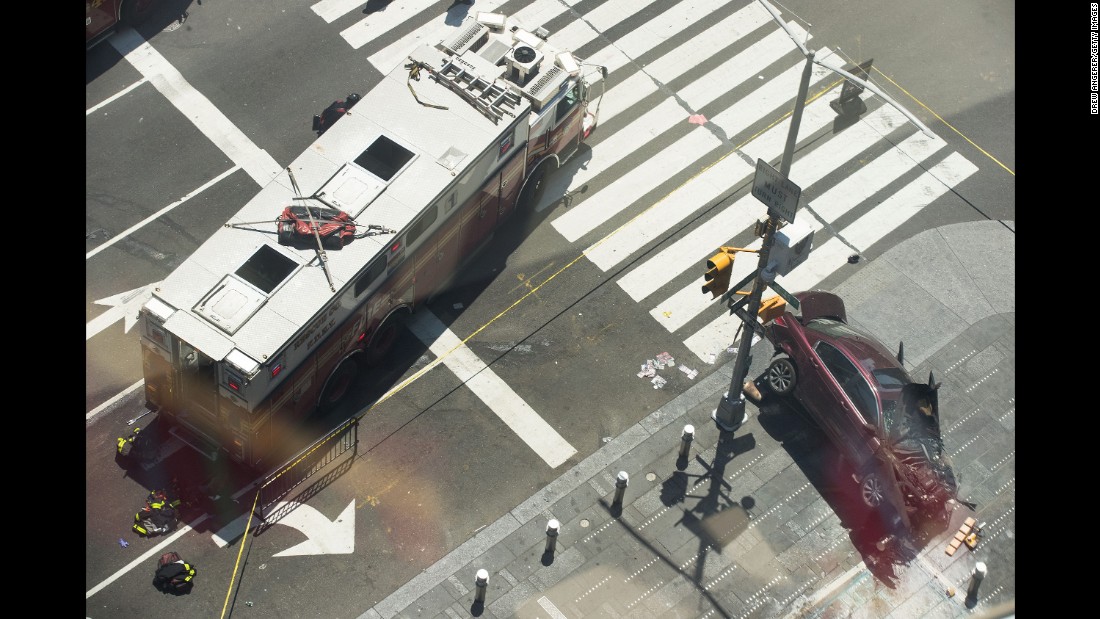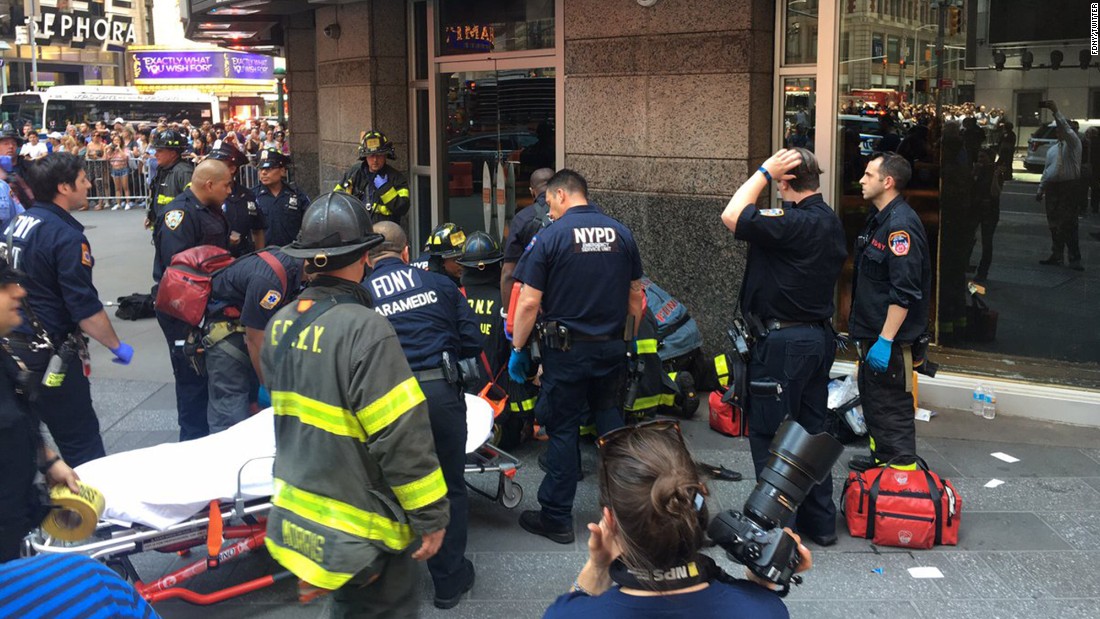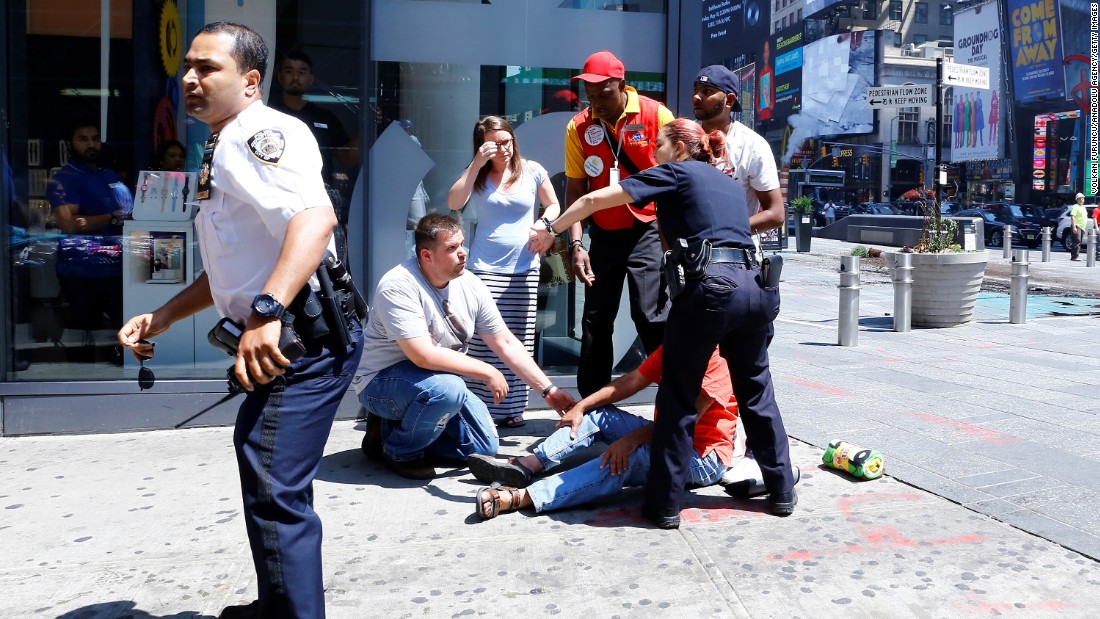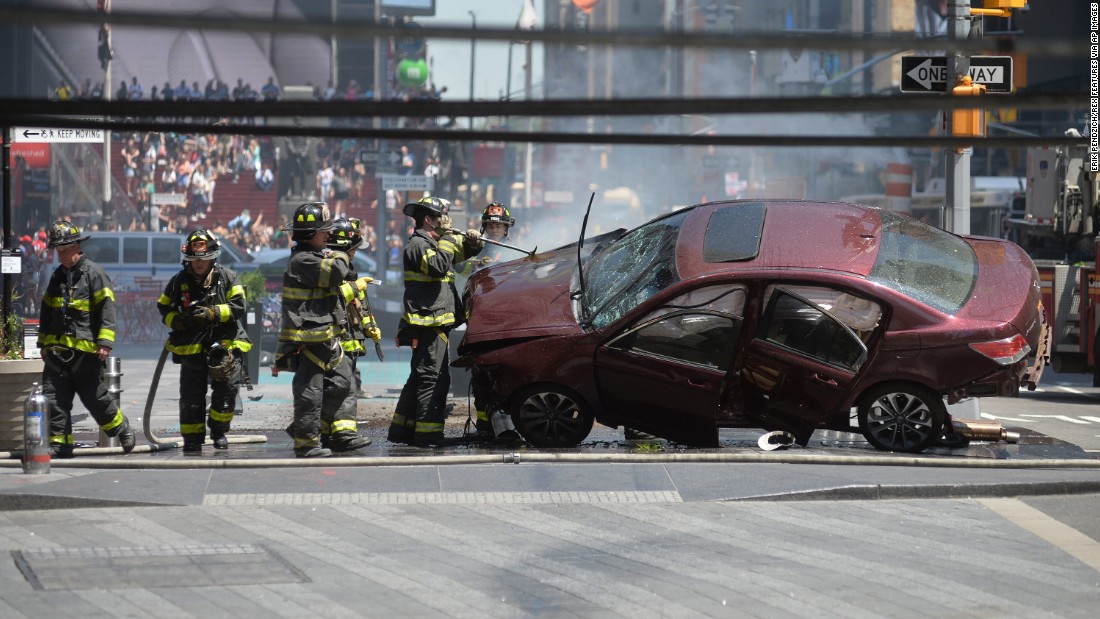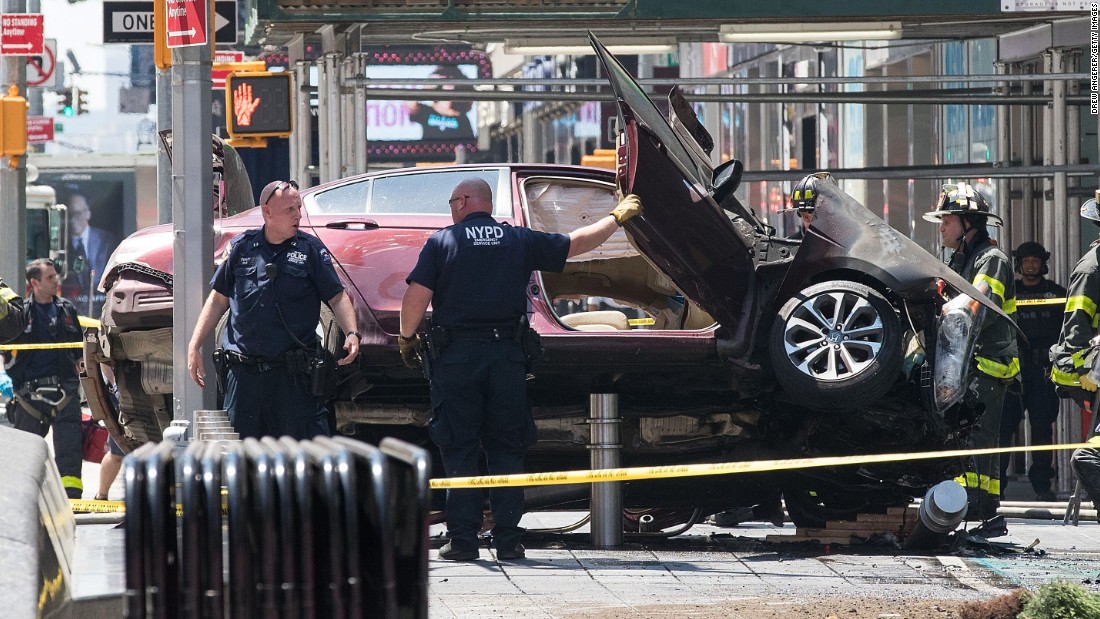 The car was lodged on a steel bollard — of which there are more than 200 on Times Square sidewalks to stop vehicles from coming through.
The car's windshield was shattered and flames billowed from the hood.
That's when Planet Hollywood employee Kenya Brandix spotted the driver fleeing from the car.
Brandix has since been hailed a hero for helping to restrain the driver.
Read more: http://www.cnn.com/2017/05/19/us/new-york-times-square-driver-charged/index.html