Charge marks latest crisis for Michel Temer, with stage set for constitutional battle as president is accused of working to silence witnesses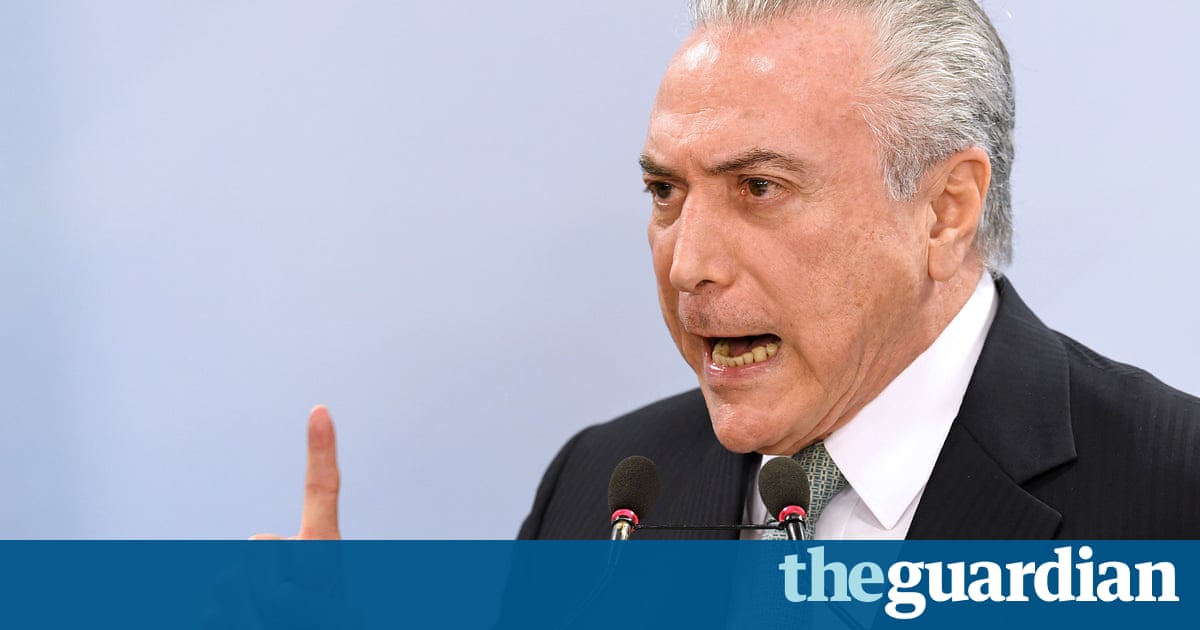 Brazil is set for more political carnage after the countrys top prosecutor formally accused President Michel Temer of conspiring with his chief coalition partner to silence witnesses and obstruct a corruption investigation.
Meanwhile, the escalating bribery scandal widened further on Friday with new plea-bargain details by executives from a meatpacking company that implicated more than 1,000 other politicians, including former presidents Dilma Rousseff and Luiz Incio Lula da Silva, and secret recordings of a supreme court judge apparently plotting to quash the judicial investigation.
Temer has lurched from crisis to crisis since he took power last year after plotting the impeachment of his running mate Rousseff.
The charges against the president set the stage for a disruptive constitutional battle between the judiciary and the government, adding to tensions that have already sparked violent protests and calls from a former chief justice for people to take to the streets in remove a tainted president.
The attorney general, Rodrigo Janot, said on Friday that Temer and Acio Neves a centre-right senator who was runner-up in the last presidential election had attempted to disrupt the sprawling Lava Jato (Car Wash) inquiry into bribes and kickbacks from the countrys biggest companies to politicians.
Based on plea-bargain testimonies and secret recordings made by the top executives of the meat-packing company JBS, the president is accused of condoning hush-money payoffs to the jailed former House speaker, Eduardo Cunha.
JBS is the largest meat processor in the world, thanks largely to generous government support. Its executives are accused of bribery and insider trading.
Janot also alleges Temer (who heads the Brazilian Democratic Movement party) and Acio (the head of the Social Democratic Party of Brazil) tried to use laws and appointments to disrupt the investigation.
Neves has also been accused of conspiring with supreme court Judge Gilmar Mendes, who was recorded in a cellphone conversation promising to support a parliamentary bill that would weaken e Lava Jato (Car Wash) investigations.
It is evident that Acio Neves, in conjunction with among others President Michel Temer, has sought to prevent Lava Jatos investigations from proceeding, either through legislative measures or through the control of the officials who oversee the investigations, Janot said.
The supreme court has accepted the evidence and authorised the investigation, prompting calls for Temer to resign. At least eight lower delegates have filed motions requesting an impeachment hearing.
Temer was due to address the country on Friday evening. The previous day, the former constitutional scholar proclaimed his innocence and insisted he would not resign. His legal team is questioning the evidence against him.
More details of the testimony by JBS executives are due to be released, which could add to the pressure on the president, whose approval ratings were in single figures even before the latest corruption revelations.
The countrys biggest newspaper, O Globo, published an editorial on Friday that urged Temer to step down. On Friday, the former chief justice Joaquim Barbosa added his voice.
There is no other way out: Brazilians must organize, go to the streets and demand with strength the immediate resignation of Michel Temer, tweeted Barbosa.
But none of the countrys major parties have escaped untainted. JBS executive Ricardo Saud testified that he paid 35m reais in bribes to five current and former PMDB senators to ensure support for former Workers Party leader Rousseffs re-election in 2014.
This was part of 300m reias that JBS had put aside for a Workers Party campaign fund. At the time, the two parties were allied in coalition government.
Saud said JBS paid a total of 600m reais to 1,829 candidates from 28 parties.
Read more: https://www.theguardian.com/world/2017/may/19/brazil-president-michel-temer-corruption-conspiracy-accusation